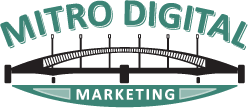 Immediately after the luncheon where we received the award, I saw the manager for the Sea Ranch Resort -- which happens to be a client of ours -- and they were thrilled to be 'working with the best'
Kill Devil Hills, NC (PRWEB) June 23, 2015
On June 4, 2015, Mitro Digital Marketing was the proud recipient of the Entrepreneur and Small Business of the Year Award with fewer than 10 employees presented to them by the Outer Banks Chamber of Commerce. The Entrepreneur and Small Business of the Year Awards (ESBY) Luncheon took place at the Sea Ranch Resort in Kill Devil Hills, NC, on the Outer Banks, where Mitro Digital Marketing is based.
Each year, members of the Outer Banks Chamber of Commerce are nominated by their peers, local clients and customers. Mitro Digital Marketing was nominated by an anonymous client, and there was broad support for MDM across the local business community.
The Outer Banks Chamber of Commerce is one of the largest in North Carolina and currently has more than 1,000 members. The chamber also presented awards to entrepreneurs in the categories of solopreneur, one employee, 10 or less employees, and 10 or more employees.
This is the second year in a row that Mitro Digital Marketing has been recognized for its outstanding work in the digital marketing field. In 2014 the company won the "Best of the Beach" award for best local digital marketing company. It's an annual contest by popularity hosted by the Max Radio Stations and the Outer Banks Voice.
Teuta Shabani Towler started the company in 2013 after several years of doing freelance marketing for local area businesses. She credits her company's success to her hardworking team and the support of her family.
"I'm so thankful for my entire team and my family for all the support in helping make this business so successful and this award possible," Towler said. "I couldn't have done it without them."
The award was an impressive win for Mitro Digital Marketing, Towler explained, because they were up against several experienced competitors who had been in business for many years.
"Immediately after the luncheon where we received the award, I saw the manager for the Sea Ranch Resort -- which happens to be a client of ours -- and they were thrilled to be 'working with the best,'" she said.
Towler said that she would like to grow the company to beyond 10 employees while maintaining Mitro Digital Marketing's reputation as effective, honest and offering a vital service to the business community. So far she feels she is on track to meet those objectives.
"Our goal is not to grow so much so fast where we lose client relationships," she said. "Instead, we want to build and foster relationships and sustain clients to maintain a small business feel."
The award also helped raise Mitro Digital Marketing's visibility within the community, said Towler.
"The calls started coming in less than a week after we received the award," she said. "So far, it has really helped with publicity, and we are generating plenty of leads."
Towler hopes the award will help make potential clients more confident with choosing MDM's services. She says the quality of her company's work and the positive demonstrable results of her services will be all clients need to continue a long working relationship with Mitro Digital Marketing.
About Mitro Digital Marketing
Mitro Digital Marketing, with the tagline "Your Bridge to Online Branding," specializes in online marketing and reputation management, content creation, SEO, PPC, web development and more. Their goal is to help small businesses thrive in their digital community. To learn more about their services, visit http://www.mitrodigitalmarketing.com