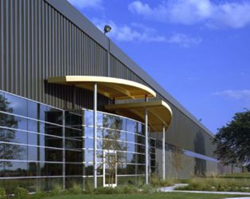 COMSTOCK TOWNSHIP, MICHIGAN (PRWEB) June 25, 2015
Midlink Business Park announced today that it has retained Portage-based Callander Commercial as the park's exclusive broker representative. Midlink also confirmed the return of Robert D. Britigan III, CPM®, Vice President of Property Management, to oversee the day-to-day operations of the world-class, 340-acre, mixed-use development.
"We are geared up for an active year," said David Smith, President of Midlink Business Park. "Demand is increasing for high-quality, ready-to-occupy space—and with vacancy rates at an all-time low, we're excited about the next phase of Midlink's growth."
According to Smith, the park's current growth plans will not only focus on filling current availability—25,000 to 445,000 square feet—in its two existing, state-of-the art, multi-tenant facilities, but also on developing both its 40-acre retail zone, with construction coming this year, and its 61-acre industrial zone with new buildings, for sale or lease, to accommodate a variety of user requirements.
"There also is significant demand for space less than 25,000 square feet. We want to be able to provide flexible options, including multi-tenant buildings divisible to 9,600 square feet, so that Midlink can meet those needs, too" Smith continued.
Midlink Business Park's 110 acres of surplus land is construction ready, roads and utilities are in place, and with lots from one to 60 acres for sale, the park is ideal for build-to-suit, single- and multiple-tenant facilities.
"Our flexibility and can-do attitude are key," said Rob Britigan. "We want people to think of Midlink Business Park as the place where you can lease a little space or a lot of space, whether short term or long term, and also as the place where you can develop land, build your own building or have us build it for you."
Matt Callander agrees that flexibility will continue to be one of the Midlink Business Park's most marketable features, along with its strategic location, just off I-94, high-capacity infrastructure and virtually tax-free, 110-acre Renaissance Zone. "Combine the environment of a dynamic business park, with robust amenities that can't be found anywhere else, and it's easy to see why companies are so attracted to Midlink Business Park," Callander said.
Since it's been open for business, Midlink Business Park has completed in excess of three million square feet of short- and long-term leases, sold more than $3.3 million of land for development and brought more than 1,500 jobs to the community. About 1,200 people touch the property every day.
"We are thrilled that Callander Commercial is representing the park and that Rob Britigan has returned as our in-house V.P. of Property Management," said David Smith. "Our team is stronger than ever, which will only position us for ongoing success."
MORE ABOUT MIDLINK BUSINESS PARK
Located midway between Chicago and Detroit, at I-94 and Sprinkle Road in Kalamazoo, Michigan, Midlink Business Park is a world-class, 340-acre development that offers a 110-acre Renaissance Zone, two state-of-the-art multi-tenant industrial buildings, totaling more than 1.6 million square feet of existing space, and 101 acres of mixed-use surplus land, including 61 acres of industrial land for development and a 40-acre retail zone. The park also offers dual rail service, truck-friendly access to and throughout the park and high-capacity infrastructure for advanced manufacturing and distribution. The original site, A General Motors stamping plan, was renovated and repurposed after an affiliate of Hackman Capital purchased the property in 1999. For more information, visit http://www.midlink.com.
MORE ABOUT CALLANDER COMMERCIAL
Callander Commercial is the leading provider of commercial real estate services in West Michigan. Ranking #1 in commercial and industrial sales throughout SW Michigan for the past 15 years, it is the superior choice for full-service assistance in the region. The Callander team has a thorough understanding of the market, and knows how to navigate through difficult economic times. Locally owned and operated since its inception, Commercial's local and regional expertise in the areas of industrial, office, retail and investment real estate provides clients with the knowledge necessary to make well-informed decisions. In addition to being deeply rooted in the business community with numerous local relationships, the company has the largest inventory of commercial real estate throughout Southwest Michigan. For more information, visit http://www.ccmichigan.com.