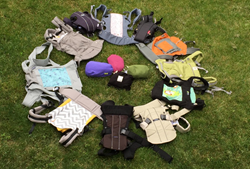 A great baby carrier is convenient, comfortable and lasts through the years.
Cheyenne, Wyoming (PRWEB) July 01, 2015
Along with her team at BabyGearLab, Pediatrician Dr. Juliet Spurrier has announced the winner of their 2015 best baby carrier review. While using the packs in both real-world and laboratory settings, the group used critical side-by-side comparisons to rate the carriers against each other. Their criteria for evaluation included: baby's safety, baby's comfort, parent's comfort, ease-of-use and ease-of-cleaning. The full review can be seen at BabyGearLab.com.
The winners are listed below:
In a rare "to-close-to-call" final scoring match-up, the coveted Editors' Choice Award was actually given out twice; first to the Tula Ergonomic Baby and also to the Onya Baby Outback.
"The Tula stood out in overall comfort, for both parent and baby. This was a key metric in our scoring since these carriers are designed for extended periods of wear," says Dr. Juliet Spurrier. "This carrier is soft and lightweight and also includes a storage pocket, a highly coveted feature. It transitions well for use with an infant by using Tula's specially designed infant insert, a concept we love."
"The Onya has a sportier look (which dad testers appreciated) and is extremely durable and functional," notes Spurrier. "It is loaded with features, including the ability to transition to a 'seat' when attached to the back of a chair for dining with baby on the go."
The award for Best Value was given to the Infantino Sash Mei Tai. "This is an easy to use, quick-tying carrier that travels well," says Dr. Spurrier. "For such a simple design, it also provides ample comfort for both baby and parent."
Finally, the Baby K'tan won Top Pick for Use With an Infant. "For a wrap-style carrier, the K'tan was easiest to use, hands down," mentions Spurrier. "It's a quick on and off design that accommodates newborns and small infants with a secure, snuggled hold that keeps them ultra-close to mom or dad."
Testing these carriers includes extensive hands-on examination in a variety of settings. First the packs were loaded with baby. They were then adjusted for fit, switched from parent to parent, and trekked around town. After several months of use, Editors rate the packs in an apples-to-apples comparison based on five metrics, specific to the category.
BabyGearLab has also published a buying advice article entitled "How to Choose the Best Baby Carrier" which answers "why" one might actually need a baby carrier, as well as the key features to look for while navigating the buying process.
About BabyGearLab LLC
Under the direction of pediatrician and mother of two, Dr. Juliet Spurrier, BabyGearLab.com strives to publish some of the most detailed and comparative reviews of baby products online. Dr. Spurrier found a deficiency in this type of resource during her own pregnancies, and thus designed a space to help other parents navigate the often overwhelming world of baby gear.