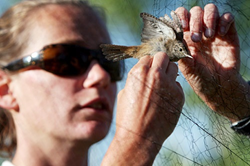 Teachers play such a critical role in developing the next generation of environmental stewards. ... We wish we had enough funding to send every teacher on an expedition.
Boston, MA (PRWEB) June 24, 2015
More than 50 teachers will soon embark on Earthwatch research expeditions to help scientists understand how climate change is affecting the planet. These one- to two-week-long experiences immerse teachers in hands-on field research that supports reinvigorated teaching back in the classroom.
This year's summer fellows join more than 5,000 elementary, middle and high school teachers who have been awarded Teach Earth fellowships made possible by more than 20 individual donors, foundations, and corporations. They will collect data confirming how climate change is disrupting foodweb relationships in Arizona and Ecuador, affecting the health of the wetlands on the South Carolina coast, and shifting the treeline in the Arctic.
"Teachers play such a critical role in developing the next generation of environmental stewards," said Larry Mason, CEO of Earthwatch, a world leader in expedition science designed to advance conservation and identify sustainable solutions. "Earthwatch equips them with the experience needed to bring science alive in the classroom. We wish we had enough funding to send every teacher on an Earthwatch expedition."
As part of the fellowship, teachers will lead a community action that promotes sustainability, or develop a new lesson plan for their students. Teacher fellows in past years have planted rooftop gardens on their schools, inspired new hands-on science curriculum, written children's books, and more.
The stories of three teacher fellow alumni are showcased here.
Robin McManus, who teaches fourth grade at The Willard School in Concord, MA, will be joining researchers in Churchill, Manitoba to study climate change at the Arctic's edge. She said, "I believe in the importance of education in our ever globalizing world, and that educating myself about social, environmental and economic issues is my responsibility not only as a teacher but as a citizen of the world. It is my job to learn about these issues and to create an environment where empathetic and thoughtful students can question, learn, and become empowered."
McManus joins other teacher fellows from several cities in California, including Los Angeles and Riverside; New York City, New York; Hoboken, New Jersey; Seymour, Tennessee; Inglewood, Illinois; Quebec City, Canada and Birmingham, United Kingdom.
For more information about the program, visit earthwatch.org/teachearth.
###
Earthwatch Institute (earthwatch.org) is an international nonprofit organization that connects citizens with scientists to improve the health and sustainability of the planet. Since its founding in 1971, Earthwatch has empowered nearly 100,000 volunteers from all walks of life to join leading scientists on field research expeditions that tackle critical environmental challenges around the globe – from climate change to ocean health, human-wildlife conflict, and more. Earthwatch works with all sectors of society, from corporations to teachers, students, community leaders, zoos and aquaria, and more.