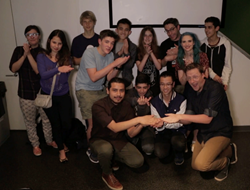 "I feel I'm just getting to do something I've never done before." - Ana Ferreira, Teen Participant
New York, NY (PRWEB) June 24, 2015
Teams of New York City teens remixed Hollywood at The LAMP's recent "Break the Trailer" event, creating mashups of hit movies such as Jurassic World, Annabelle, Pitch Perfect 2 and Minions as well as major franchises like Taken, Star Wars, Star Trek and the James Bond series. The event followed other LAMP "Break" programming, such as "Break the Super Bowl" and precedes the forthcoming "Break the VMAs."
The teens, students at the United Nations International School, met at the Sony Wonder Technology Lab for two workshop sessions in which they explored the purpose of movie trailers, how they are constructed and how they have changed over time. The students then broke into pairs and created original movie trailers based on video clips.
"I've always kind of had a passion for movie trailers," said one student, Nicholas Sakoff. "So to be a part of the process, it's interesting. It's fun..I know now how much work it takes to make these short videos. I used to think it was simple, but it's really time consuming and takes a lot of work."
Finished trailers ultimately commented on the homogeneity of box office hits and action movie franchises, as well as the ways in which women are represented. Others used familiar characters to construct entirely new stories for fictional upcoming films.
"I think what's the coolest about this project is that you get to create new things out of the old things that already existed," said student Yifan Wang.
The trailers were screened in the HD Theatre at the Sony Wonder Technology Lab for LAMP supporters as well as the families of the students. The screening also included a short film about the process of making the trailers, produced by SheKnows Media. The event concluded with awards voted on by the audience and a panel of judges consisting of Emily Anne Epstein (The Atlantic), Alia Jones-Harvey (Mayor's Office of Media and Entertainment), Alejandra Ramos (AlwaysOrderDessert.com) and David Levinson Wilk (CrosswordsForCongress.com).
"Especially given the time they had, I thought the remixes were really sharp," said Levinson Wilk. "The students used sound, music and images to show how interchangeable movie franchises really are. It was tough to tell when you were watching Star Trek or Star Wars, which says something about Hollywood and what we as an audience expect from big movies."
"I'm really proud of everything the students were able to accomplish in just two workshop sessions," said Alan Berry, Director of Education for The LAMP. "It's clear from their projects that they learned new skills in editing, and throughout the process itself we could hear them starting to talk differently about not only movie trailers, but also movies themselves. Every young person needs to learn media literacy and critical thinking skills, and this workshop allowed them to practice those skills in a fun, hands-on way."
Student Ana Ferreira echoed the uniqueness of the program, saying, "I feel I'm just getting to do something I've never done before."
The LAMP is currently working on documenting its "Break" workshops so that events can be held independently across the country. This documentation, called "Break-a-thon in a Box" is expected for release in early 2016.
About The LAMP: The LAMP provides hands-on learning opportunities to at-risk and underserved populations so they can live, learn and thrive in the 21st century. Through partnerships with dozens of schools and nonprofit organizations, The LAMP teaches media literacy, digital citizenship, critical thinking and basic production skills for a variety of media forms. The LAMP also offers professional development workshops for educators as well as family programming, in addition to free online tools such as the MediaBreaker and LAMPlit resource guides. More information at thelamp.org.