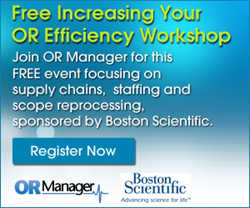 Rockville, MD (PRWEB) June 25, 2015
OR Manager and Boston Scientific will partner together to present a free half-day educational workshop providing operating room managers, business managers, and directors with tools and strategies on staffing, supply chain management, and endoscope reprocessing. The workshop will be held in Boston, MA, September 14, 2015, 7:00 a.m. – 11:30 a.m. The agenda has been announced and includes three sessions with three confirmed speakers.
The workshop will kick off with "The OR Supply Chain – Taking it to the Next Level" session, led by William J. Bailey, Sullivan Healthcare Consulting. This session is geared towards maximizing the effectiveness of the OR supply chain and will discuss topics including product procurement, vendor relations, inventory management, and cost management.
The workshop will continue with the session, "Staffing to Demand to Improve On Time Starts, Case Length and Turnover Times," led by Alecia Torrance, RN, BS, MBA, CNOR. Torrance will discuss the foundation for effectively creating a rational and balanced OR schedule through physician governance, and attendees will be given a take-home staffing tool to help reduce costs.
The final session of the day, "Complexities of Surgical Instrument Reprocessing," led by Mark Duro, CRCST, FCS, IAHCSMM Approved Instructor, Director of Sterile Processing Operations, New England Baptist Hospital, will give an overview of complex medical devices that pose a challenge to the sterile processing department as well as discuss proper processes and recommendations for the use of these devices.
"The intimate setting of this live event will allow attendees to receive tailored resources and tools that they can then take back to their facilities and apply immediately," says Elizabeth Wood, editor of OR Manager.
Attendees of the free Improving Your OR Efficiency Workshop can earn 3 CEUs at no cost and will have the opportunity to network with fellow industry professionals during the complimentary breakfast and coffee break.
To see the full workshop agenda along with details on hotel and travel information, visit http://www.ormanager.com/or-manager-workshop.
About OR Manager
OR Manager, an Access Intelligence company, provides news and information for perioperative directors and managers, OR business managers, and other decision makers in the surgical suite through the monthly OR Manager publication, the digital OR Reports, the OR Manager Conference, webinars, books, and other publications.
###