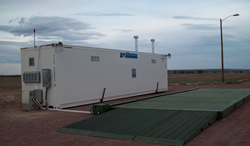 To stay ahead of the Quagga mussel threat, the DNR is installing permanent Hydrosite decontamination systems.
Salt Lake City, Utah (PRWEB) June 30, 2015
Beginning in 2007 Hydro Engineering Inc. started working with the Utah Department of Natural Resources (parks and recreation) and has provided over 50 mobile, trailer mounted Hydroblaster specifically designed for Aquatic Invasive Species decontamination.
Utah's DNR AIS program has taken another step forward and are installing AIS Decontamination Stations at a number of heavily used reservoirs throughout Utah. Hydro Engineering Inc. is the vendor that will supply these systems.
In an effort to stay ahead of the Quagga mussel threat, the Utah DNR is installing Hydro Engineering Inc. Hydrosites and Hydropad wash rack systems to insure that boats entering and leaving reservoirs will be inspected and decontaminated if a threat is found.
The AIS decontamination systems are designed specifically for watercraft decontamination to benefit waterway AIS prevention programs. These decontamination systems will include:

Hydrosite equipment enclosures, which can be either portable or stationary, emulate an equipment room. All equipment is permanently factory installed within the Hydrosite and tested for operation prior to utility connections on site. In the case of the Utah DNR, these will be permanent locations. They are climate controlled and engineered for the hot and cold weather application that is experienced in Utah.
A 40' long x 20' wide Hydropad wash rack is where the decontamination takes place. During the decontamination process, all water and debris flows from the top surface of the Hydropad through channels to a side gutter. The collected water and debris are pumped back to the Hydrosite to be filtered and recycled.
Multiple Hydroblasters with Precision Thermal Management (PTM) insures safe and stable temperatures for decontamination are permanently installed in the Hydrosite. A number of specially designed tools required to perform the decontamination work are provided.
A Hydrokleen wastewater filtration system cleans all captured solids, oils and grease, emulsified oils, metals and also provides pathogen and odor free recycled water that is re-used in the decontamination process.
The first reservoirs to receive the decontamination systems are: Deer Creek Reservoirs, Jordonelle Reservoir, Utah Lake and Willard Bay.
Contact the Experts at:
Hydro Engineering Inc.
865 W 2600 S
Salt Lake City, UT 84119
800-247-2484
http://www.hydroblaster.com