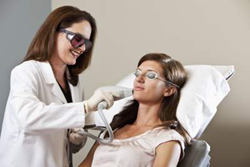 Rolling Meadows, Ill. (PRWEB) June 23, 2015
More patients are seeking laser treatments to permanently remove unwanted hair, a new American Society for Dermatologic Surgery survey shows.
About 633,000 laser hair removal procedures were performed by ASDS members last year – a 27 percent increase from 2013 and a 51 percent climb from 2012, according to the recently released 2014 ASDS Survey on Dermatologic Procedures.
ASDS member H.L. Greenberg, MD, thinks greater public awareness about laser hair removal – be it due to increased publicity or word-of-mouth – is making a difference.
"What was once a novel idea is now a sensible convenience," he said.
Greenberg said women between the ages of 19 and 36 and men between 18 and 45 most frequently take advantage of laser hair removal. He said women are motivated to seek treatments to eliminate hair from their underarms and along their bikini lines, while men are more focused on tidying the appearance of their backs and necks.
Laser hair removal utilizes beams of highly concentrated light designed to selectively penetrate into hair follicles, be absorbed by the pigment and destroy the hair. Pulses of the laser take a fraction of a second and treat many hairs simultaneously. The procedure was originally recommended for dark hairs on light skin, but ASDS President George J. Hruza, MD, MBA, said newer technologies have made it safer and more effective for patients with a range of complexions and hair colors.
Most of the lasers and light sources are FDA-cleared for permanent hair reduction. Some patients see long-term hair removal; others may require maintenance treatments over time.
"Traditional hair removal routines can be tedious and painful," Hruza said. "Rather than be stuck in a frustrating cycle of shaving, tweezing or waxing, many people prefer the convenience and longer-lasting impact of laser hair removal."
Laser hair removal can be dangerous in inexperienced hands, he said, adding that burns, scars and skin discoloration are possibilities if procedures are not performed correctly. ASDS members have the advanced training and expertise to safely produce the desired results, he said.
"ASDS members have long been at the forefront of laser, light and energy-based treatments," Hruza said. "We routinely perform laser hair removal procedures with excellent outcomes."
About the ASDS Survey on Dermatologic Procedures
Data were collected for the 2014 experience and generalized to represent all ASDS members. The survey was conducted Jan. 2 to Feb. 6, 2015, for data reported in 2014. The survey link was sent to 3,980 practicing members. Survey results are reported based on 826 physicians, or a 21 percent response rate.
About ASDS
The American Society for Dermatologic Surgery is the largest specialty organization exclusively representing dermatologic surgeons who have unique training and experience to treat the health, function and beauty of your skin. ASDS members are pioneers in the field. Many are involved in the clinical studies that bring popular treatments to revitalize skin and fill and diminish wrinkles to the forefront. Their work has helped create and enhance many of the devices that remove blemishes, hair and fat, and tighten skin. Dermatologic surgeons also are experts in skin cancer prevention, detection and treatment. As the incidence of skin cancer rises, dermatologic surgeons are committed to taking steps to minimize the life-threatening effects of this disease. For more information, visit asds.net.
Follow us:
Website: asds.net
Follow ASDS on Twitter: twitter.com/ASDSSkinExperts
Become a fan of ASDS on Facebook: facebook.com/ASDSSkinExperts
Locate a dermatologic surgeon in your area: asds.net/findadermatologist.aspx
Contact:
Jay Schwab
Communications Manager
American Society for Dermatologic Surgery
jschwab(at)asds(dot)net
847-956-9143