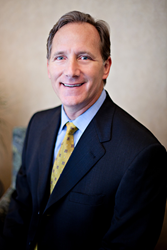 Naples, FL (PRWEB) June 23, 2015
Dr. Timothy Davis is celebrating his 25th anniversary of practicing as a periodontist in Naples, FL. In addition to celebrating his current achievements, Dr. Davis also seeks to honor the occasion by inviting nearby residents to improve their periodontal health by learning about the latest in advanced technologies, including the Chao Pinhole® Surgical Technique, the LANAP® protocol and other available treatment options designed to improve oral health.
In addition to celebrating 25 years of practicing periodontics in Naples, Dr. Davis also claims the honor of being the first periodontist in Naples, FL to offer the Chao Pinhole® Surgical Technique as a treatment option for receding gums. Patients who are interested in receiving an alternative to gum grafting procedures are urged to talk with Dr. Davis about this highly effective and minimally-invasive treatment option. Unlike grafting procedures, the Chao Pinhole® Surgical Technique treats gum recession without incorporating tissue from one location to another. Instead, the quick and surprisingly simple technique is performed by pushing the gums downward or upward over the exposed root surface and inserting collagen into the area with the use of specialized instruments. All of this is done through a small pinhole in the gum tissue. Patients who receive this treatment option typically recover very quickly and notice immediate improvements in the appearance of their gum tissue.
Dr. Davis also offers other advanced procedures and technologies, including the LANAP® protocol for the treatment of gum disease. This effective and precise treatment option treats diseased gum tissue with targeted pulses of laser light. Nearby tissue is left unharmed while inflamed gum tissue is effectively located and removed. Patients can also receive dental implants, cosmetic and regenerative periodontal surgery, sinus augmentations, biopsy of oral lesions, IV conscious sedation, scaling and root planing, periodontal maintenance, and 3D elite digital imaging services (CT) with Dr. Davis.
Dr. Davis has extensive training and experience in all aspects of periodontal treatment, and his office is committed to providing exceptional periodontal care in an ethical, caring and compassionate environment. All individuals in need of periodontal services from a qualified periodontist in Naples, FL, are invited to schedule an appointment with Dr. Davis. Patients are encouraged to visit Dr. Davis' website at http://www.naplesperiodontist.com for more information, or call (239) 330-4996 to schedule an appointment.
About The Doctor
Dr. Timothy S. Davis is a periodontist that has been offering personalized dental care for patients in Naples, FL for over 25 years. Dr. Davis received his degree from the University of Nebraska Medical Center, College of Dentistry. He also completed his General Practice Residency at Saint Joseph Hospital in Denver, Colorado, before completing his specialty training in Periodontics at Louisiana State University Medical Center in New Orleans. Dr. Davis was the first Periodontist to offer Chao Pinhole® Surgical Technique in the Naples area and belongs to the one percent of dental professionals currently providing the Laser Assisted New Attachment Procedure (LANAP®), the first FDA-cleared laser procedure for gum disease and periodontal treatment. To learn more about Dr. Timothy Davis and the dental services he provides, visit his website at http://www.naplesperiodontist.com/ or call (239) 330-4996.