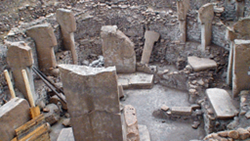 We are particularly interested in ... possible impact on brain activity.
Myakka City, FL (PRWEB) June 25, 2015
A second international multi-disciplinary conference on the use of sound in the ancient world will meet at Istanbul Technical University beginning on 30 October 2015. While it is no secret that ancient cultures all over the world have exploited natural sound phenomena for spiritual and ceremonial use, there has been little progress in crossing the boundaries of archaeology to include architecture and the physics of acoustics and vice versa. People may have manipulated sound to connect with the invisible divine or to gain power. Like the first such conference, held in Malta last year, Archaeoacoustics II seeks to break through barriers to a new understanding of our past.
Presentations from researchers, scholars and technologists working across diverse disciplines, sites and practices will focus on the ancient use of sound in sacred and contemplative spaces. With specialists collecting multi-disciplinary input on the spot, the working non-profit conference becomes inspirational bedrock for new thought. "We are particularly interested in the role acoustic behavior may have had in the development and design of important architecture and ritual spaces throughout the ancient world, the question of intention and any possible impact of exposure on brain activity," say organizers from The OTS Foundation.
A planned workshop will address the creation of a theoretical base, standardization of data and development of an accepted methodology for the study of the emerging field of Archaeoacoustics. Presentations and subsequent publication will be in English. Anticipated speakers and titles are listed on the Conference website. Registration for Archaeoacoustics II is now open for a limited number of non-presenting observers.
Istanbul is the gateway to Ancient Anatolia: birthplace of Agriculture and the Cradle of Civilization. The venue affords the potential for exploring the 12,000 year old remains of the world's oldest known shrine, Gobekli Tepe, which has redefined earlier held beliefs about prehistoric human development.
The conference is organized and hosted by The OTS Foundation, a United States of America not-for-profit 501(c)(3) educational foundation dedicated to research and public outreach concerning the Neolithic (New Stone Age) in Europe and the Mediterranean. With offices in Florida and Malta, OTSF activities include support for research and meetings such as this one.