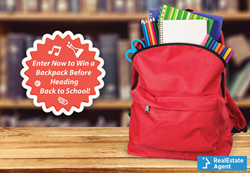 Fort Lauderdale, FL (PRWEB) June 24, 2015
Real estate agents help so many families begin their journey, find a new home, and select a neighborhood based on great local schools for their children. As the most reliable source for trustworthy Real estate agents, as well a place where dedicated professionals in the industry can come together for the latest information about current market trends, selling strategies, and more, RealEstateAgent.com is proud to have made such an impact with its last Backpack Giveaway, during which they were able to give school supplies to several families in its network.
The feedback from the 2014 Backpack Giveaway was so outstanding that RealEstateAgent.com has decided to celebrate again. This summer RealEstateAgent.com will be selecting 20 of its followers to receive an all new back-to-school backpack.
This Backpack Giveaway is no ordinary contest or raffle. This giveaway is interactive. To enter, contestants must first follow Real Estate Agents on Pinterest or 'like" them on Facebook. Then, all applicants must pin or post pictures of their family with creative captions explaining why they deserve to win a free backpack.
Realestateagent.com is excited to help some of their followers avoid the high cost of replacing backpacks every year.
About RealEstateAgent.com
Researching agents online gives you more insight into different types of agents that are both local and available in your state. Since 2003, RealEstateAgent.com has made the home buying and selling process easier for agents, realtors and especially, first-time home buyers. With hundreds of professionals to choose from before making a decision, the next time you're in the market, compare listings and simplify the process at RealEstateAgent.com.
For more information and contest entry instructions please visit https://www.realestateagent.com/pinterest.html