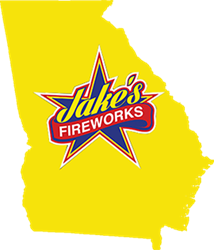 (PRWEB) June 24, 2015
Jake's Fireworks, a leading fireworks distributor, will open five superstores in Georgia just in time for residents to light the night on Independence Day. This will be the first holiday under new legislation allowing the sale of fireworks beginning July 1.
For an extra patriotic touch, Jake's Fireworks is giving buyers the chance to help military families with their fireworks purchase.
Many think the change in law will provide an economic spark, keeping revenue in Georgia rather than losing it to nearby states. Sales will bring in an excise tax of 5 percent in addition to state and local taxes. Funds from licensing fees will go for public safety.
One of the largest fireworks retailers in the country, Jake's has invested big in Georgia and is ready to help customers prepare to celebrate a landmark holiday. Grand openings will feature state and local leaders as well as community groups.
Jake's also has safety in mind as more Georgians than ever will be marking the holiday by setting off fireworks of their own. The grand openings will feature firework safety flyers available to the public to help everyone celebrate safely.
Patriotism is also a hallmark of the business. As Georgians celebrate their country, Jake's is offering the chance to give back to military families while buying fireworks. Ten dollars from the sale of every Folds of Honor firework will go to scholarships for military families. Shooting off the red, white and blue Folds of Honor aerial firework will honor those who fought for freedom while helping their loved ones lead better lives.
The Folds of Honor Foundation serves families of those who have been killed or disabled in the line of duty. Their motto says it best: "We will leave no family behind on the field of battle." Through their brand, World Class Fireworks, Jake's hopes to raise at least $500,000 to help families of those who have served.
With 250 retail locations, Jake's is one of the leading wholesale and retail business which has been family owned and operated for more than 70 years. Products include rockets, fountains, novelty items and a wide variety of other items. With a distribution center less than 50 miles from the Georgia border, the state was perfect fit for expansion.
"Our Wagener, South Carolina, fireworks distribution center is prepared and ready for orders," says Jake's CSO Mick Marietta.
The new Georgia law also means that Jake's will offer fundraising opportunities to non non-profits and civic groups.
Safety and other information is available at http://www.jakesfireworks.com. Jake's is working hard to distribute safety advice through the website, handouts and seminars.
Just a few tips: Have water close at hand, light only one firework at a time, and never run with sparklers.