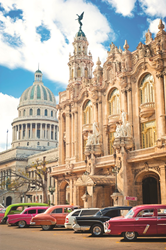 We are very excited to launch tours to Cuba to a wider U.S. travel audience, offering affordable prices and a length of stay conducive to most Americans' schedules.
NEWTOWN SQUARE, PA (PRWEB) June 24, 2015
As a result of eased U.S. travel restrictions to Cuba, Apple Vacations (http://www.AppleVacations.com) will sell tour programs under the 12 pre-approved travel categories licensed by the Office of Foreign Assets Control (OFAC) of the U.S. Department of Treasury. Apple Vacations' tours are classified as "Educational Activities" known as "People-to-People". These pre-arranged itineraries are designed to give vacationers the opportunity to immerse themselves in Cuban culture, and to interact and engage with its people. In the initial launch, the first departures are in Sept. and Oct. 2015.
The leading vacation wholesaler is working with US-based Cuba Travel Services, a Cuba-licensed operator that charters flights from Miami to Cuba with Sun Country Airlines and American Airlines. Connections to Miami can be arranged from all major U.S. gateways.
"We are very excited to launch tours to Cuba to a wider U.S. travel audience, offering affordable prices and a length of stay conducive to most Americans' schedules," said Tim Mullen, president of Apple Vacations. "We are working with Cuba Travel Services to create a seamless and enjoyable experience, from ensuring that the required entry documentation is submitted to the fulfillment of the itineraries while in the destination".
The five-night Havana Getaway provides a cultural overview of Cuba's historic and rhythm-infused capital, ideal for U.S. visitors who cannot allot the 10+ days required by other Cuba travel programs available to Americans. Highlights include comprehensive sightseeing tours, musical performances, antique American cars, a cigar rolling demonstration and plenty of authentic Cuban cuisine. The Havana Getaway is priced from $2,233 per person, based on double occupancy, with departure dates on Sept. 5 and Oct. 17, 2015.
Apple Vacations is also launching a seven-night Colors of Cuba program. In addition to the features of the Havana Getaway, this itinerary includes two nights in the well-preserved colonial town of Trinidad – a UNESCO World Heritage Site in the central Cuban province of Sancti Spiritus, known for its pastel-colored buildings and cobblestone streets. The Colors of Cuba itinerary is priced from $2,733 per person, based on double occupancy, with departure dates on Sept. 11, Sept. 25 and Oct. 8.
Prices include Cuban health insurance, charter flights departing from Miami (connecting flights from other US cities available), Cuban tourist visa processing, U.S. taxes and fees. A Cuban departure tax of $25USD per passenger will be collected upon check in at Miami International Airport.
Travel to Cuba must be booked a minimum of 40 days in advance of departure date to allow ample time for the processing of required documentation.
Travelers will receive an orientation in Miami to ensure familiarity with Cuban laws, policies and traditions prior to arrival in Cuba.
Visit http://www.AppleVacations.com/Cuba for more information.
APPLE VACATIONS
For more than 45 years, Apple Vacations, America's Favorite Vacation Company, has provided affordable, top quality vacation packages from U.S. departure cities nationwide to vacation destinations throughout Mexico, the Caribbean, Central America, Hawaii and Europe, as well top North and South American ski resorts. With the support of travel agents, Apple Vacations has delivered more passengers to Mexico and the Dominican Republic than any other tour operator worldwide. Apple Vacations is consistently voted "Best Tour Operator to Mexico and Latin America" by readers of the leading travel trade magazines.
CUBA TRAVEL SERVICES, INC.
Cuba Travel Services Inc., with offices in California and Florida, arranges daily, non-stop, direct
public charter flights between the United States and Cuba. Cuba Travel Services, Inc. is licensed by the U.S. Treasury Department's Office of Foreign Assets Control (OFAC) as both an authorized Carrier Service Provider (CSP) and Travel Service Provider (TSP) in travel related services to Cuba. As a full service charter and tour operator, Cuba Travel Services provides the highest level of professional services to individuals, groups, families, educators, students, professionals and organizations, under Specific or General Licenses issued by the U.S. Treasury Department. Its mission is to facilitate a safe and rewarding travel experience that only Cuba can offer through its rich diverse culture, history and natural beauty. CTS's unmatched knowledge and expertise of each individual Cuban province make it the most preferred air charter and tour operator in the market.
###