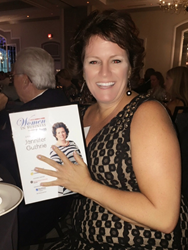 The future is far more exciting and wonderful than she could possibly ever dream, says Jennifer Guthrie when asked what she would tell her seventeen year-old self.
Charlotte, North Carolina (PRWEB) June 25, 2015
In-Flight Crew Connections (ICC, http://www.inflightcrewconnections.com), a leading full-service staffing firm exclusively focused on the corporate aviation industry, is pleased to announce that Jennifer Guthrie received the Charlotte Business Journal's 2015 Women in Business Achievement Award. The program highlights 25 women who have made significant contributions to their professions and to their communities during the past year. A cocktail reception and awards dinner honoring the recipients was held at the Sheraton Charlotte/Le Meridien Hotel on June 22, 2015.
As a part of the awards presentation, winners were asked to submit a yearbook photo of themselves, and answer the following question: "What were you thinking at that moment in the photo - and what would you tell her now?" Jennifer said, "I was in my first year of college at the age of seventeen and it was the age of wonder.....wondering what I would do with my life and where I would go from there. I would tell her the future is far more exciting and wonderful than she could possibly ever dream." Since founding the company in 2002, In-Flight Crew Connections has experienced an average annual growth of 177%. Jennifer credits her team of dedicated aviation professionals who work around the clock to be responsive to clients' needs. The company has been awarded Inavero's 2015 Best of Staffing® Award for exceptional client and talent service for the second consecutive year. Fewer than 2% of all staffing agencies earn this award.
In addition to leading In-Flight Crew Connections as CEO, Jennifer is also a busy mother of three and philanthropist. Jennifer currently serves with CARE for AIDS (CFA), a non-profit organization which partners with local churches in Africa to help care for men and women living with HIV/AIDS. Jennifer and her family travel to Africa to help educate parents on how to start their own business. The organization empowers the parents and helps them to live an extra 20-25 years by providing support, counseling, education, work-training programs, nutrition and medication. Jennifer is committed to end the orphan crisis in Kenya and dedicated to helping CFA change the face of AIDS. Jennifer also serves as a mentor to other women in business and within her own team at ICC.
About In-Flight Crew Connections
In-Flight Crew Connections, a global leader since 2002, provides aviation industry staffing solutions for owners and operators of business class jets. Focused on developing customized solutions that meet the unique needs of corporate aviation clients, our range of services include: ONe-Call™ Temporary Crew Services - on demand supplemental staffing for pilots, flight attendants, schedulers/dispatchers, aircraft maintenance technicians and engineers, Payroll Services, Management Service, Recruiting & Placement, International Staffing, and Concierge Services. The company is a privately held WBENC certified women-owned staffing firm headquartered in Charlotte, North Carolina.
To schedule staffing services with In-Flight Crew Connections, call (704) 236-3647. Visit In-Flight Crew Connections online at http://www.inflightcrewconnections.com and follow on Twitter, LinkedIn and Facebook.
###