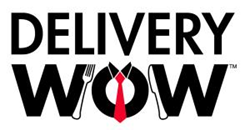 Chicago, Illinois (PRWEB) June 25, 2015
These offers include free delivery on select orders through September 30, 2015, extra rewards points for Delivery Wow rewards program members, and a number of additional tasty offers.
The Wow Rewards program offered by Delivery Wow, is a reward points program that allows the company to show appreciation for their customer's loyalty. Each order earns customers Delivery Wow rewards points per dollar amount spent on food, beverages, desserts, and serving items.
Delivery Wow also has an app for easy ordering. The app is available for download on your Apple or Android device. The Delivery Wow app allows users to view menus, place orders, and access the Wow Rewards program while on-the-go.
Let Delivery Wow make your summer delicious with great deals on restaurant food delivery in South Florida and Chicago.
About Delivery Wow
DeliveryandToGo.com has since merged with CEO Deliveries, Inc. to become Delivery Wow, a Chicago restaurant food delivery service and South Florida restaurant delivery service. Today the restaurant delivery service industry is thriving and Delivery Wow is well poised as a recognized market leader that has been readily adopted by delighted consumers and savvy restaurant operators alike.
Consumers appreciate the convenience of having their favorite restaurant food delivered to them when they are unable to pick it up themselves or dine on-premise; and, restaurants appreciate the ability to have their complete takeout and drop-off catering menus delivered for them without having to hire drivers, incur additional liability or manage the food delivery process. Delivery Wow also functions as a dynamic online marketing force that generates millions of menu page views annually as well as dramatically increased foot traffic for its partner restaurants - all while making the restaurant food deliveries on time.