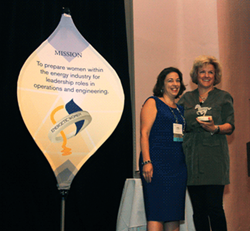 Mary is an amazing leader for men and women.
Eagan, MN (PRWEB) June 24, 2015
MEA and Energetic Women are proud to announce that Mary Palkovich, Vice President of Energy Delivery, Consumers Energy received the Energetic Women's Maverick Award. The Maverick Award gives special recognition to leaders who have set the standard in promoting, connecting and strengthening female leaders in energy operations and engineering. Mary is an amazing leader for men and women. To start, she emphasizes the importance of having a diverse workforce and encourages hiring managers to require a diverse candidate pool for interviews. Mary establishes this strategic direction by communicating the message that a diverse and inclusive workforce increases employee engagement and leads to a more successful and productive organization. In addition, Mary is very active in the Women's Engineering Network (WEN) at Consumers Energy.
The Women's Engineering Network is dedicated to creating a network of women in engineering, but more inclusively those in the fields of Science, Technology, Engineering, and Math or STEM. The network exists to help make the work environment a place where we can retain the talent of our members. The Network utilizes a variety of tactics aimed to connect members throughout the company, support our members and build professional skills and abilities.
The Maverick Award is presented annually to a man or women who actively participates in the advancement of women in leadership, who knows an organization is stronger with a diverse leadership team, who believes in the empowerment of women, who understands the importance of recognition and opportunities for women, who advocates for the professional advancement of women, and who acknowledges the full talents, capabilities, and organizational benefits of women in energy operations and engineering.
For information about Energetic Women contact, Stacey Bonine at (651) 289-9600 x114 or staceyb(at)midwestenergy(dot)org.
About MEA:
MEA serves the people that deliver electricity and natural gas to homes and businesses. MEA (Midwest ENERGY Association) was founded as a trade association over 100 years ago by distribution utilities, whose vision was to improve safety and efficiency. Today, energy delivery companies around the globe benefit from MEA's industry learning seminars, operations summits, and other events. Members collaborated to develop EnergyU, the world's premier online training and testing system for gas and electric distribution utilities.