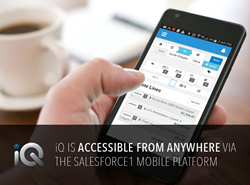 The Salesforce market is a growing, thriving space and it's great to align with other innovative companies that are looking to build applications that meet customers' business needs. - Vivian Keena, CEO
Aliso Viejo, CA (PRWEB) June 24, 2015
Alternative Technology Solutions, the leading CRM and ERP solution and service provider that brings the best of the cloud to manufacturers, today announced that it has joined the Cloud Collective, a membership-based organization of Salesforce software and application vendors.
"Joining the Cloud Collective is a great way for Alternative to continue building its presence and traction in the Salesforce space while collaborating and learning from other application vendors," said Vivian Keena, Alternative CEO. "The Salesforce market is a growing, thriving space and it's great to align with other innovative companies that are looking to build applications that meet customers' business needs."
The Cloud Collective was inspired by the community surrounding the Salesforce AppExchange and is built of application vendors that are Salesforce Independent Software Vendors (ISVs). The goal of the group is to "further educate the Salesforce community about the variety of apps at their fingertips and better serve the distinct needs of sales, customer support, marketing and IT teams," said Ryan Huff, CEO and Co-founder, Cirruspath and Cloud Collective founding member.
Featured within the Cloud Collective is Alternative's iQ Configure, Price, Quote application and full suite of Salesforce services. "The players in the Cloud Collective all bring something unique to the table and for Alternative, it's our focus on building and delivering the best Salesforce solutions for manufacturers and distributors," said Keena.
"Companies are looking to transform the way they connect with customers, partners and employees to thrive in the today's connected world," said Ron Huddleston, Senior Vice President, Global AppExchange & Partner Program, salesforce.com. "By leveraging the power of the Salesforce1 Customer Platform, members of the Cloud Collective provide customers with the proven social, mobile and connected cloud technologies to accelerate business success."
To learn more about the Cloud Collective, visit cloudcollective.co. To learn more about iQ Configure, Price, Quote, visit the Salesforce AppExchange.
Salesforce, Salesforce1, AppExchange and others are among the trademarks of salesforce.com, inc.
About Alternative Technology Solutions
Alternative Technology Solutions, Inc. brings the best of the cloud to manufacturers and distributors through solutions and services that help companies work smarter and faster. Headquartered in Aliso Viejo, CA, the company also has offices in Boston, Chicago, Indianapolis, and Monterrey, Mexico. Alternative is a two-time Inc. fastest-growing company, was highlighted on CIO Review's annual list of Most Promising Manufacturing Tech Solution Providers, and was named to SPI Research's 2015 Best of the Best benchmark list.
For more information, visit http://alttechsolutions.com.