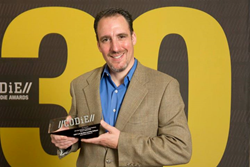 We are thrilled to receive such an esteemed recognition as the CODiE award for our CAAT engine that powers Cerebrant
Reston, Virginia (PRWEB) June 24, 2015
Content Analyst® Company, developer of market-leading advanced analytics software, today announced that the company's CAAT 3.16 engine won the 2015 CODiE Award for Best Semantic Technology Platform, Tools and Applications from the Software & Information Industry Association (SIIA).
As Content Analyst Company's flagship advanced analytics software product, CAAT is also the underlying engine behind the company's web-based insight and analysis platform for the pharmaceutical industry, CerebrantTM. Cerebrant dramatically improves the efficiency and effectiveness in pharmacovigilance and regulatory intelligence by identifying the most relevant information ten times faster than traditional solutions. Cerebrant changes the way knowledge workers interact with the growing volumes of information, both external and internal, that must be analyzed. Knowledge workers now have access to the power of the CODiE-winning semantic search capabilities through an intuitive, web-based user experience. Cerebrant for Pharma allows users to effectively analyze and identify relevant information from a wide range of sources including Pubmed, FDA Guidances and MAPPs, and nearly 300 industry and general news sources as well as internal information sources.
"We are thrilled to receive such an esteemed recognition as the CODiE award for our CAAT engine that powers Cerebrant," said John Felahi, Content Analyst Company's Chief Strategy Officer. "Our product management and engineering teams are truly passionate about building and delivering the most innovative and effective solutions to help knowledge workers find, organize, and analyze the most relevant information amidst the ever-growing masses of unstructured internal and internal content. I speak for our team in conveying deep gratitude from the SIIA members for this recognition, and I share our team's pride in building a truly world class advanced analytics product."
Health analytics experts such as pharmaceutical product managers, bioinformatics experts, senior scientists, knowledge workers and regulatory intelligence managers/directors can try Cerebrant for Pharma for free for 14 days by visiting http://www.Cerebrant.com.
"SIIA's 2015 Content CODiE Award winners are some of the most innovative, high-impact content products out there," said Michael Marchesano, General Manager of CISD & ABM divisions at SIIA. "We congratulate all of this year's CODiE Award winners, and thank them for the contributions they have made to the content industry."
The SIIA CODiE Awards are the premier award for the software and information industries, and have been recognizing product excellence since 1986. The awards have over 85 categories and are organized by industry focus of Content, Education, and Software.
Winners were announced during the ABM & Information Industry Summit, at Mandarin Oriental in the Washington DC. The ABM & Information Industry Summit (IIS) is a flagship conference for leaders across the business information industry, bringing together an audience of 300+ senior executives from B2B media, publishing and information companies to address important strategic issues and to network.
Details about the winning products can be found at http://www.siia.net/codies/2015/winners.asp
About the SIIA CODiE™ Awards
The SIIA CODiE™ Awards were established in 1986 by the Software & Information Industry Association (SIIA), so that pioneers of the then-nascent software industry could evaluate and honor each other's work. Since then, the CODiE Awards program has carried out the same purpose – to celebrate the software and information industry's finest products and services.
The SIIA CODiE Awards are the industry's only peer-reviewed awards program. The first round review of all nominees is conducted by media, publishing, and information services executives with considerable industry expertise, including members of the industry, analysts, media and bloggers, and bankers and investors. The judges are responsible for selecting the CODiE Awards finalists. SIIA members then vote on the finalist products and scores from both rounds are tabulated to select the winners.
For more information about the SIIA CODiE Awards, visit: http://www.siia.net/codies
About SIIA
SIIA is the leading association representing the software and digital content industries. SIIA represents approximately 800 member companies worldwide that develop software and digital information content. SIIA provides global services in government relations, business development, corporate education and intellectual property protection to the leading companies that are setting the pace for the digital age. For more information, visit http://www.siia.net.
ABM/CISD represents the intersection of business information, media, and technology, and is now the home for nearly 300 member companies. These organizations reach an audience of more than 100 million professionals, and represent nearly 4,000 print and digital titles, over 1,000 conferences trade shows, and data products. The combination reflects an industry with more than $40 billion in annual revenues is it revenue or revenues. The Division formed as the result of a March 2015 merger of ABM, an industry association focused on the entire B2B business model, and CISD, a division of SIIA that serves the business information community. Together ABM/CISD delivers intelligence to industry professionals worldwide, including Madison Avenue, Wall Street and the Beltway. For more information, visit siia.net/abm or siia.net/cisd.
About Content Analyst Company, LLC
Content Analyst Company enables subject matter experts to find the most relevant information ten times faster than ever before possible from unstructured content. The company's Cerebrant web-based discovery platform, powered by the company's award-winning CAAT advanced analytics engine delivers significant value wherever knowledge workers need to extract insights from large amounts of unstructured content. For more information, visit http://www.contentanalyst.com.