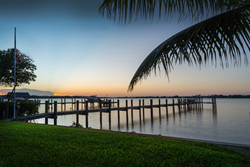 The possibilities may be endless, but the opportunity will end soon!
Jupiter, FL (PRWEB) June 25, 2015
"Have you ever wished you could build your dream house on an enchanted, fairytale plot near Jupiter Inlet with postcard-perfect river views, 127 feet of waterfront and crisp, saltwater breezes that blow in from the Atlantic Ocean and rustle through a canopy of towering oak trees," asks Drew Saporito. "Then your dream is about to come true." View Pictures
One could easily build a brand new 12,000-square-foot masterpiece on this transcendent plot of land overlooking the Loxahatchee River that is as rich with fruit, oak and palm trees as it is with sunrise and sunset views.
Shangri-La in Jupiter's romanticism extends beyond its borders, as its location makes hopping in a boat for a sunset cruise to catch live music at Harbourside Place's waterfront amphitheater or have an idyllic dinner at a new riverside restaurant a daily option. Both Jupiter Inlet and Jupiter Lighthouse are just minutes away by boat, as are Utiki Beach and Harbourside Place, Jupiter's premier waterfront destination for shopping, dining and entertainment.
Shangri-La in Jupiter boasts deep blue water in a no wake zone, a private dock and lift, and tranquil views of Jupiter Sandbar that extend all the way down both the north fork and the east side of the river to Jupiter Lighthouse. An expansive dock stretches out into the water, which is deep enough to accommodate Sport Fisherman-sized boats, and a boat ramp provides easy access to the river for paddle boarding and kayaking.
Don't miss out on this crown jewel of Jupiter! The possibilities may be endless, but the opportunity will end soon!
Call today to schedule a viewing. 561-309-3571 | Click Here to learn more
About Native Realtor® Drew Saporito
A proud native of Jupiter, Florida, Drew's relationship with both Keyes Palm Beach Gardens and Luxury Portfolio International expands available offerings through powerful local and global resources.
Need help selling your exceptional property in one of the idyllic Northern Palm Beach communities? Enlist Drew Saporito, Native Realtor® for the job call 561-309-3571. Click Here for additional information.
See the latest market trends in your Neighborhood! Home Value Report