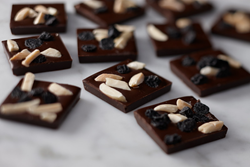 Kohler, Wis. (PRWEB) June 23, 2015
Kohler Co. is pleased to announce three new additions to the popular line of KOHLER Original Recipe Chocolates: Dark Chocolate Candy Bars, Sugar-Free Landscape Tiles and Divine Chunks. Kohler chocolatier, Anette Righi DeFendi, handcrafts the pieces with the finest ingredients to deliver an exceptional chocolate experience.
The new products will debut at the Summer Fancy Food Show in New York City, June 28-30 and will be available for purchase in August 2015. Throughout the show, KOHLER Original Recipe Chocolates will host several live broadcasts on Periscope featuring the chocolate making process, as well as answering questions in-booth – #4013. The broadcasts will take place throughout the day on Sunday, Monday and Tuesday morning during the Fancy Food Show. Those not attending the show can download the Periscope app on their mobile device and watch the live stream. Additionally, Righi DeFendi will be in-booth to speak further to show attendees about the new varieties of chocolates.
Each product is handmade in Kohler, Wisconsin at Destination Kohler, a Forbes Five-Star and AAA Five-Diamond resort.

Dark Chocolate Candy Bars – A classic favorite, these dark chocolate candy bars are now available in three varieties: Savory, made with 55% cocoa; Complex, made with 70% cocoa and Bold, made with 78% cocoa.
Sugar-Free Landscape Tiles – Offering the same delicious taste of Kohler Chocolate, but without the sugar, Landscape Tiles are made with no-sugar added dried blueberries, roasted almonds and sugar-free chocolate that will satisfy any sweet tooth.
Divine Chunks – Filled with a chunky peanut butter center, the Divine Chunks are available with a milk chocolate shell. Each handcrafted piece has a unique color of pink and purple.
"When developing our new products, we wanted to create varieties that incorporate robust flavors and excite the palate," said Righi DeFendi. "Our new Dark Chocolate Candy Bars appeal to the ultimate chocolate lover, offering a richer and bolder taste, and the Sugar Free Landscape Tiles' slightly tart and nutty flavor combination is a match made in heaven. Creating the Divine Chunks was an exciting task for us as we wanted to appeal to both children and adults, with the taste and eye-catching colors."
All three products will be available year-round. The new varieties can be purchased, starting in August 2015, online at http://www.KohlerChocolates.com.
The innovative flavor combinations join an already lauded line of KOHLER Original Recipe Chocolates that include a variety of popular treats including but not limited to:
Original Buttery Terrapins, Kohler Co.'s version of the turtle. Expertly crafted, these turtles are set apart from the ordinary, offering the perfect blend of chocolate, salted pecans and smoky, burnt caramel. Also available in Blackstrap, Java and Cranberry.
Perfect as sparkling gems, Rare Facets are artfully-created to capture the complexity and beauty of 63% dark chocolate paired with flavors such as Pineapple, Sour Cherry, Cranberry-Raspberry, Blueberry, Mandarin Ginger and Pomegranate.
The Garden Ganache is the faultless chocolate for that person who truly appreciates a beautiful piece of art. Inspired by garden varietals, the colors of these hand-painted milk chocolates hint at their unique flavors – each elegant, artistic and delicious. The Garden Ganache top-selling flavors include: Raspberry, Crème Fraiche, Hazelnut Coffee and Macadamia Nut.
An experience for all the senses, KOHLER Original Recipe Chocolate Bars are available in Milk and Dark Chocolate, Hazelnut Crunch, Mint, Peanut Butter and Cherry Almond.
KOHLER Original Recipe Chocolate signature lines are available year-round at the Craverie Chocolatier Café and online at http://www.KohlerChocolates.com. The Craverie Chocolatier Café is one of 12 dining establishments throughout Destination Kohler, located in Kohler, Wisconsin. The resort boasts the Forbes Five-Star and AAA Five-Diamond American Club hotel, four Championship golf courses at Whistling Straits and Blackwolf Run and a Forbes Five-Star Kohler Waters Spa. Stay up to date on resort happenings on Facebook and on https://twitter.com/theamericanclub.
About Kohler Co. Hospitality & Real Estate Group
The Kohler Co. Hospitality & Real Estate profile includes The American Club, boasting the first and only Forbes Five-Star hotel property in Wisconsin, and world-renowned championship golf courses Whistling Straits and Blackwolf Run. Acquired in 2004, its sister property, The Old Course Hotel, Golf Resort & Spa in the birthplace of golf, St Andrews, Scotland, is a AA Five Red Star property and recognized as one of the most luxurious resorts in the world.
About Destination Kohler
The American Club, a Forbes Five-Star Recipient and the Midwest's only AAA Five-Diamond resort-hotel, was named #3 Golf Resort in North America, by Golf Digest Magazine. The resort is one of only 48 hotels in North America with both the Forbes Five-Star and AAA Five-Diamond distinction. Kohler Waters Spa in Kohler, Wisconsin, is the first and only Forbes Five-Star spa in Wisconsin and one of 48 spas worldwide to hold this distinction. The resort features 12 dining establishments from the Forbes Four-Star Immigrant Restaurant to traditional pub fare at Horse & Plow and rustic Italian at Cucina. The resort is located in the Village of Kohler, Wisconsin, one hour north of Milwaukee and two and a half hours north of Chicago.