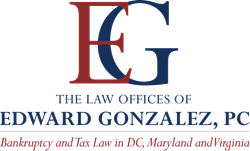 Attorneys Edward Gonzalez and Albert Coto emphasize straightforward talk and provide personalized attention.
Washington, D.C. (PRWEB) June 25, 2015
When people are facing financial challenges, the stakes can be high, the legal and personal consequences devastating, and the stress unmanageable. The lawyers at the Law Offices of Edward Gonzalez, PC, know this. They understand that when clients need help, they're looking for solutions to a grim financial crisis.
Attorneys Edward Gonzalez and Albert Coto emphasize straightforward talk and provide personalized attention. Their main concern is securing the financial future of the client, not getting another case off their desks—they don't shuffle clients in and out. Mr. Gonzalez and Mr. Coto are dedicated to actively listening to the outcomes that matter most to clients, and they don't assume they know what's best for them. They respect the specific financial goals of every person who comes into their office.
The website for the Law Offices of Edward Gonzalez, PC—built with the help of Foster Web Marketing, the lawyer and medical practice marketing firm—was designed to showcase that personal attention. Potential clients who visit this website will find personal advice videos that both inform and educate them on different factors that can affect their financial situation. These videos teach clients more about their legal rights and options and are available in both English and Spanish.
Additionally, the website offers testimonials from clients who have had a positive experience with the firm, along with success stories about past cases. The website also includes frequently asked questions about financial issues—bankruptcy, serious tax problems, and foreclosure. And Mr. Gonzalez provides answers to those questions in language that people can understand.
Mr. Gonzalez is an active member of two local specialty bar groups: Northern Virginia Bankruptcy Bar Association and the Bankruptcy Bar Association for the District of Maryland. He's also active in national organizations, including the National Association of Consumer Advocates. Mr. Gonzalez volunteers teaching business start-up classes, and he serves as pro bono legal counsel and board director and officer for several local community groups.
Mr. Coto has nearly a decade of experience in law firms principally working on Chapters 7, 11, and 13 bankruptcy cases. He is admitted to practice law in Maryland, New York, and the U.S. District Courts for the District of Maryland and the District of Columbia. Mr. Coto is also admitted to practice law in Costa Rica. He is fluent in Spanish and French and has conversational knowledge of Portuguese.
Mr. Gonzalez and Mr. Coto represent clients in a wide area in Maryland, Virginia, and the District of Columbia and invite you to visit their new website to learn more at http://www.money-law.com.
About Foster Web Marketing:
Founded in 1998, Foster Web Marketing (FWM) offers attorneys, physicians, and other professionals across North America and overseas an effective online marketing approach that combines appealing and intuitive design with the latest search engine optimization, comprehensive marketing services, and content management strategies. FWM has proven that it is possible to build a "Made in the USA" business with excellent customer service in a very competitive market, all while helping its clients succeed through powerful websites and proven education-based marketing techniques using its proprietary "secret weapon," Dynamic Self-Syndication (DSSTM). To learn more, please visit http://www.FosterWebMarketing.com.