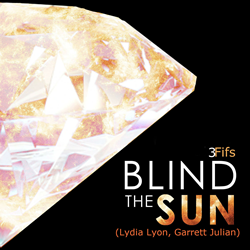 Atlanta, GA (PRWEB) June 23, 2015
Coast 2 Coast Mixtapes presents the release of the "Blind The Sun" single by 3Fifs. This new single is currently available to stream and download on the Coast 2 Coast Mixtapes website.
"Blind the Sun" is the anthem for the American dream. The song was written by 3Fifs, produced by Tony Jones of Tag Team Productions, and features songstress Lydia Lyon, and fellow emcee Garrett Julian. A strong melody, bold hook, and powerful verses with a flow that perfectly nails the production highlight this strong statement song. Mike Love, the recently stepped down Senior VP Program Director for Cumulus Media, has gone on record of saying "this could be the song of the year." Already achieving rotation in international markets, 3Fifs is set to make history with this song.
3Fifs (Three Fifs) is a St. Louis, MO born hip-hop artist who, as opposed to simply making music, aims to make history. Since releasing his first full-length project "Birth of a Nation" in February of 2013, Fifs has gone on to earn several accolades: his debut single "Castro," which featured west coast emcee Mistah F.A.B. In addition, 3Fifs was nominated for "Freshman of the Year" at the 2014 SLUM Fest hip-hop awards, and in May of 2014, became one of only 14 US hip-hop artists chosen to showcase at the Canadian Music Week, performing live at the Hard Rock Café in Toronto.
Following his international acclaim, 3Fifs relocated to Atlanta, GA to expand his reach. After hearing his music and viewing his music videos, Mike Love (CEO of Bluetag Media) decided he had to work with the rising star.
"You have the potential to turn this game upside down. Your style is unique, your music is high quality, and you have the sense to know how to make it all work." – Mike Love
Over the course of the past year, 3Fifs has withdrawn from the public eye while working on his new release "The Runaway LP," a very personal testament about his journey since he decided to pursue his music career. To be formally introduced by the single "Blind the Sun," Fifs promises fans a true evolution in his music from every aspect while they look at and listen to history in the making.
Stay up to date with 3Fifs on Twitter at: @3fifs
About Coast 2 Coast Mixtapes
Coast 2 Coast Mixtapes are the most widely distributed mixtapes in the world, with over 100 million downloads/plays generated by over 200 volumes officially hosted by major artists. Coast 2 Coast has a solid reach in the new music industry with a digital magazine, DJ coalition, industry tips blog, yearly convention, and more. Coast 2 Coast Mixtapes represents a unique opportunity for artists of all urban genres, from major to indie. For more information, visit http://www.coast2coastmixtapes.com.