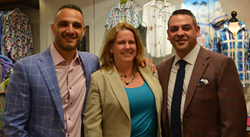 As a small business owner it is important to me to give back to our surrounding communities
Midland Park, New Jersey (PRWEB) June 24, 2015
Sal Lauretta for Men, one of the area's most exclusive shops for menswear and custom tailoring, recently announced that it has raised an astonishing $132,000 by hosting the 6th Annual "Behind the Seams" fashion show to benefit Eva's Village, a non-profit comprehensive social service organization located in Paterson, NJ. The exclusive fashion show presented the Robert Graham collection (Sal Lauretta's #1 selling sportswear brand) and Boutique 811, located in Franklin Lakes. Sal Lauretta for Men offered an exciting night of fun and fashion, along with the chance to help others. Partnering with Sal Lauretta for Men on this event were Bottagra Restaurant and The DSM Group.
This annual event helps support the many anti-poverty programs at Eva's Village, whose mission is to feed the hungry, shelter the homeless, treat the addicted, and provide medical and dental care to the poor with respect for the human dignity of each individual. Eva's Village is a social service agency in Paterson that strives to provide food, shelter and counseling to those in need.
"As a small business owner it is important to me to give back to our surrounding communities," said Ralph Lauretta, owner of Sal Lauretta for Men. "This event is the perfect way to bring together our expertise and our clientele to help those in need and provide a fun-filled night for an amazing organization."
"Eva's Village is so grateful that Sal Lauretta for Men and the Behind the Seams Board continue to be so generous by hosting this event to benefit our anti-poverty programs," said Marie Reger, executive director of Eva's Village. "We look forward to this event every year and also to the generous support of its donors."
What started out as a small event six years ago to raise money for a good cause quickly became one of the largest fundraisers for Eva's Village. Multiple local businesses attend and help raise money for this cause. To date, the event has raised more than $592,000, and this year raised the most by the family-owned men's clothing store.
About Sal Lauretta for Men:
For 40 years, Sal Lauretta for Men has provided discerning men with the finest men's fashions and custom tailored suits. In addition to made-to-measure items and formal wear, the shop is also home to some of the biggest names in men's classic and contemporary designer fashion such as Hugo Boss, Canali, Robert Graham, Bugatchi and Brioni, and also has a boys department. For more information, please visit the website http://www.sallauretta.com.
About Eva's Village:
Founded by Msgr. Vincent E. Puma in 1982 as a response to the poor and homeless in Paterson, NJ, Eva's Village is a non-profit comprehensive social service organization. Through more than three decades of service, Eva's Village has established a unique record in facing community challenges and changing the lives of the hungry, homeless and addicted. It has grown from a simple soup kitchen to become the most respected anti-poverty program in New Jersey. It now includes eighteen integrated programs housed in numerous buildings spanning several city blocks in downtown Paterson. For more information, please visit the website http://www.evasvillage.org