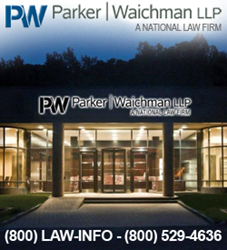 By renewing these benefits, we are taking important steps toward helping to save their lives."
Port Washington, New York (PRWEB) June 23, 2015
Parker Waichman LLP, a national law firm that has spent many years fighting to ensure that the heroes of 9/11 terrorist attacks are never forgotten, applauds recent efforts to reauthorize the Zadroga Act. According to an announcement dated June 11, 2015, the House and Energy Commerce Committee, Subcommittee on Health held a hearing to discuss renewing the Zadroga Act's programs, the World Trade Center (WTC) Health Program and the September 11th Victim Compensation Fund (VCF). The Subcommittee on Health is chaired by Representative Joe Pitts (Republican-Pennsylvania).
"The WTC Health Program funds networks of specialized medical programs. These programs are designed to monitor and treat those with 9/11 related conditions," Pitts said, according to the announcement. "This legislation has begun an important conversation that will lead to a timely and fully offset reauthorization of the Health Program."
Full Committee Chairman Fred Upton (Republican-Michigan) highlighted the brave and selfless efforts of 9/11 responders, and emphasized the need to renew the programs. "On September 11, 2001, the world as we know it was turned upside down and left a mark on every American. First responders spent hours, days even, in air that was thick with dust and smoke digging through the rubble, and searching for survivors. When I visited Ground Zero just days after the attacks, New York's finest were still working round the clock in impossible conditions for the recovery efforts—their selfless work took a toll on their health," said Upton, according to the announcement.
According to Parker Waichman, many injured and ill 9/11 responders depend on the Zadroga Act's programs. The WTC Health Program provides medical monitoring and treatment to 70,000 participants across the country. The VCF provides compensation to individuals who were injured and their families. "This hearing is an important first step towards renewing the Zadroga Act," said Matthew J. McCauley, Senior Litigation Counsel at Parker Waichman LLP. "We applaud Chairman Upton and Subcommittee Chairman Pitts for their dedication to our 9/11 heroes."
Parker Waichman has actively worked toward the 2010 passage of the Zadroga Act, including taking part in grass roots and lobbying efforts and trips to the nation's capital led by Mr. McCauley, often, along with the firm's clients. Mr. McCauley and Parker Waichman continue to support the Zadroga Act and continue to support efforts to extend the Act's timeline and its scope.
Parker Waichman LLP comments that exposure to toxic dust at Ground Zero has been linked to a number of serious conditions, including respiratory illnesses and over 60 types of cancer. "The Zadroga Act's programs are crucial for our injured and ill 9/11 responders," said Gary Falkowitz, Managing Attorney at Parker Waichman LLP. "By renewing these benefits, we are taking important steps toward helping to save their lives."
Parker Waichman, which worked, and continues to fight, alongside Ground Zero first responders, survivors, and their advocates, to help ensure passage of the Zadroga Act and its amendments, vows to continue its efforts to safeguard these heroes and ensure that they receive all of the Zadroga Act compensation they deserve. If you or a loved one are eligible for compensation under the Zadroga Act, and would like assistance with your claim, or if you or a loved one have been injured as a result of toxic exposure, please visit Parker Waichman's website or call 1-800-LAW-INFO (1-800-529-4636).