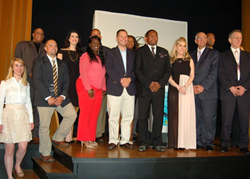 Little do we hear about those who are working daily to improve the lives of those around them, and those that are making definite strides in this direction
New York, NY (PRWEB) June 23, 2015
The Church of Scientology of New York hosted the 8th Annual Drug-Free Heroes Awards Gala on June 9, organized and emceed by Meghan Fialkoff, founder and executive director the New York chapter of the Foundation for a Drug-Free World.
On display in the theater of the Church of Scientology were proclamations honoring the Foundation for a Drug-Free World from New York City Public Advocate Letitia A. James, New York State Senators Toby Ann Stavisky, Brad Hoylman and Leroy Comrie; and Assistant Speaker of the New York State Assembly, Felix Oritz.
The New York chapter of the Foundation for a Drug-Free World has spearheaded a drug education and prevention movement that touches the lives of thousands of youth in and around New York City each month. It is based on the Truth About Drugs educational materials, published and made available free of charge to educators, parents, community leaders and civic and religious organizations by the Los Angeles-based Foundation for a Drug-Free World.
Ms. Fialkoff emphasized the importance of reaching youth with the truth about drugs, referring to the August 2012 "National Survey of American Attitudes on Substance Abuse XVII: Teens" of Columbia University's National Center on Addiction and Substance Abuse.
That study revealed that "60 percent or more of teens report that their high schools are drug infected, meaning that drugs are used, kept or sold at the schools." The report said, "nearly nine out of 10 high school students told us that classmates are drugging, drinking and smoking during the school day."
"We live in a time where each day we open the newspaper to see stories of no hope, despair and suffering," said Ms. Fialkoff. "Little do we hear about those who are working daily to improve the lives of those around them, and those that are making definite strides in this direction."
This was the purpose of the gala, she noted, to acknowledge those "who are setting an example for their community, leading the way to create a better future for those around them." She pointed out that each of the community leaders and officials receiving awards are making a difference through drug education and awareness in the greater New York area.
The Gala was held in honor of the United Nations Office on Drugs and Crime International Day Against Drug Abuse and Illicit Trafficking, which is observed every year on June 26.
The Church of Scientology and Scientologists sponsor the Truth About Drugs program, one of the world's largest nongovernmental drug education and prevention initiatives. To popularize drug-free living, a broad spectrum of fact-filled, high-impact educational materials are distributed by the millions by the nonprofit, public benefit Foundation for a Drug-Free World to schools, community groups and governmental institutions worldwide. Drawing on decades of experience in drug education and prevention, the Truth About Drugs program effectively communicates the reality of drug abuse individually and through mass communication.
Young people who receive the unvarnished facts about the damage drugs can do are far more likely to reject them on their own, which is why Truth About Drugs is in high demand as an educational tool in schools, law enforcement units and community-based settings. More than 62 million educational booklets have been distributed, and drug prevention public service announcements have so far reached more than 260 million viewers in 123 countries. Learn more at: http://www.scientology.org/how-we-help/truth-about-drugs.html