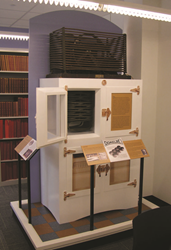 It is a significant piece of industry and ASHRAE history.
Atlanta, Ga. (PRWEB) June 25, 2015
ASHRAE has added a piece of history to its Headquarters in Atlanta, Georgia, with the display of the first successful electric household refrigerator manufactured 100 years ago.
The DOMEstic ELectric REfrigerator (DOMELRE) marked the first attempt to mass-market a simple, inexpensive household refrigerator. It was also the first successfully manufactured air cooled system, and the first to be easily portable, being designed as a ready plug in refrigerator unit that could be added to an ice box, instantly converting it to an electric refrigerator.
It was developed by Fred Wolf Jr., who was a charter member of the American Society of Refrigerating Engineers (1905), a group that merged with the heating and ventilating engineers to form ASHRAE in 1959.
The DOMELRE condenser, evaporator and motor from 1916 was installed on the first floor of ASHRAE Headquarters on June 19.
"The piece comes from the Frigidaire collection where it had resided since the 1920s," Bern Nagengast, ASHRAE historian who arranged for the donation, said. "As far as I know, it's the only one in existence. It is a significant piece of both industry and ASHRAE history, being the first successful automatic electric refrigerator and invented by Fred Wolf Jr, charter ASRE member."
Other interesting facts about the unit:

It was designed to be inserted into a homeowner's existing ice box.
The plug was designed to screw into a light socket for homes that might not have another electric outlet.
It was advertised as the first "portable" refrigerator.
It was one of the first refrigerators to have a space for an "ice tray" – originally a muffin tin.
The refrigerant originally used was sulfur dioxide.
Wolf was inducted into the ASHRAE Hall of Fame in 2014 for his contributions. Learn more here about his work at http://www.ashrae.org/halloffame.
ASHRAE, founded in 1894, is a global society advancing human well-being through sustainable technology for the built environment. The Society and its more than 50,000 members worldwide focus on building systems, energy efficiency, indoor air quality, refrigeration and sustainability. Through research, standards writing, publishing, certification and continuing education, ASHRAE shapes tomorrow's built environment today. More information can be found at http://www.ashrae.org/news.
###
Contact: Jodi Scott
Public Relations
678-539-1140
jscott(AT)ashrae.org