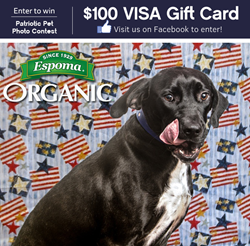 We welcome all kinds of animal pictures, anything that says Land of the Free and Home of the Brave to you.
Millville, NJ (PRWEB) June 26, 2015
As one of the biggest celebrations of the summer, the Fourth of July is the perfect opportunity to celebrate independence and take lots of pictures. Yet people aren't the only ones showcasing their patriotism on the Fourth of July — pets cannot get enough of the Red, White and Blue.
This year, showcase a star-spangled furry friend in Espoma Organic's Patriotic Pet Photo Contest.
From June 26 through July 7, pet-lovers across the country can enter Espoma's Facebook contest for a chance to win a $100 VISA gift card.
To enter, contestants should like Espoma on Facebook, then click on the contest tab. Post a picture that shows your pet celebrating the Fourth of July in style. Then, share the link with friends and family and encourage them to vote with a 'like.' The contest winner will be determined by the most likes on the photo submitted.
"We welcome all kinds of animal pictures, anything that says Land of the Free and Home of the Brave to you," says Jaime Brunner, new business development manager and animal lover at Espoma.
One winning pet and their owner will receive a $100 VISA gift card. All entries must have something patriotic in the photo to be eligible to win. Full contest details and rules are available on the Patriot Pet contest tab.
"Our fans are creative in the garden," says Brunner. "We thought they'd have fun showing off their garden helpers, too. Don't forget to include your pet's name on the photo when you submit an entry."
Don't have a pet photo to upload? Check Facebook regularly from June 26 through July 7 to vote for the most patriotic photo. Vote for as many entries as you like. All are welcome to participate so share favorite posts with family, friends and coworkers.
The contest will end at 9:00 AM on Tuesday, July 7. The winner will be announced on Wednesday, July 8.
The Espoma Company has been the pioneer in natural gardening solutions since 1929. Espoma provides an extensive selection of natural products that work in harmony with nature and are safe for people, pets and the planet. The company produces more than 100 products to cover the nutritional needs of plants and to grow beautiful lawns and gardens. Visit espoma.com for more information and tips about organic lawn care.