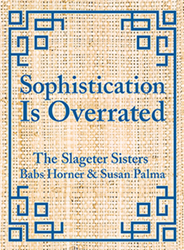 Dallas, Texas (PRWEB) June 23, 2015
Using their artistries as a gourmet caterer and interior decorator, authors and sisters Babs Horner and Susan "Sue Sue" Palma released their coffee table book "Sophistication Is Overrated" (Brown Books Publishing Group) at the beginning of summer. Its success is reflected by its strong performance on Amazon's best-sellers list.
"We are beyond excited about how well the book has been received by readers, family and friends," Palma said. "We hope people reference it for not only a good laugh but for party ideas beyond the ideas laid out in the book. Today is National Pink Day and our 'Little Princess Birthday' could offer great inspiration on hosting something fun and pink."
In "Sophistication Is Overrated," which is a testimony to both refinement and fun, readers can find demonstrations on how to prepare — often ahead of time — rave-reviewed recipes that are big on flavor and light on butter as well as inspiration for creative and beautiful tablescapes utilizing pieces found in readers' own cabinets. The party ideas are showcased in two versions: "So Chic," with elegant crafts and décor, and "So Slageter," with rubber chickens, wacky costumes and a healthy dose of humor.
Horner lives in New Canaan, Connecticut, and is a gourmet caterer of Absolutely Babulous and a needlepoint entrepreneur with It's a Stitch. Palma lives in Dallas, Texas, and is a nationally and locally published decorator, owner of Susan Palma Interiors and co-owner of The Design Girls with Muffin Lemak.
Fans in the DFW area, the sisters have a signing at The Dallas Gift Market from 1 – 8 p.m. on Wednesday, June 24 through Sunday, June 27 at The Dallas World Trade Center in suite 6632.
For more information on The Slageter Sisters, upcoming events and to purchase the book, visit http://www.SophisticationIsOverrated.com.
###