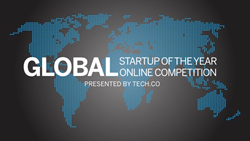 Las Vegas, NV (PRWEB) June 24, 2015
Today, Tech.Co, the media company focused on technology, startups and entrepreneurs, and producer of Tech Cocktail events, announces the launch of their global startup competition. The online news and events company is scouring the world for the most innovative early stage businesses to showcase at their annual startup conference, Celebrate 2015, being held in downtown Las Vegas, October 4-6, 2015.
Regional startup competitions take place online and through live pitch events held in cities across the U.S., where live audiences and readers pick their favorite startups. Fifty (50) regional winners are invited to participate in the semifinals of Tech.Co's Startup of the Year competition at Celebrate 2015. Five finalists will be selected to pitch in the finals in front of celebrity judges and other startup experts.
Startups must pre-qualify in order to participate in the competition. Qualified startups have received less than $1.5M in outside funding to date, offer an innovative solution, and must be willing to travel to Las Vegas, Nevada for the finals. Applicants may represent any industry or vertical from anywhere in the world. All startups are encouraged to apply.
A team of Tech.Co editors and startup experts will review all applications and select the most innovative, qualified applicants to be eligible for the global competition.
Prizes will be awarded to winning startups. Techstars, one of the top U.S.-based accelerators, has reserved a guaranteed "fast track" in the Techstars application process, including an interview with one of their Managing Directors. CEA offers a prize package of exhibit space and ten free passes to the 2016 International CES show along with travel and accommodations in Las Vegas, Nevada for the show. They are looking for the best 'consumer electronics' startup to award this prize. More prizes to be announced.
All startup applications are due no later than 5pm EST, Tuesday, August 4, 2015. Startups can find the application here: http://tech.co/celebrate-startup-competition.
Regional competitions will be held for the following cities, and surrounds. All other applicants are encouraged to apply through our global startup application and will compete with other startups from their state, country or region.
Atlanta, GA
Austin, TX
Bloomington, IN
Boise, ID
Boulder, CO
Buenos Aires (Argentina)
Champaign, IL
Charleston, NC
Chicago, IL
Denver, CO
Fargo, ND
Havana (Cuba)
Honolulu, HI
Houston, TX
Indianapolis, IN
Kansas City, KS
Las Vegas, NV
Little Rock, AR
Los Angeles, CA
Miami, FL
Minneapolis, MN
New Orleans, LA
Orlando, FL
Phoenix, AZ
Portland, ME,
Portland, OR
Providence, RI
Provo, UT
Seattle, WA
St. Louis, MO
Southeastern, VA
Toronto (Canada)
Vancouver (Canada)
Washington, DC
About Tech.Co & Tech Cocktail
Founded in 2006 by former Tribune and AOL product strategist, long-time tech blogger and new media pioneer Frank Gruber, Tech Cocktail's original vision was to amplify the local Chicago tech scene through events and meet-ups. In 2010, in the midst of growing demand for tech startup news and resources, Gruber teamed with former AOL producer Jen Consalvo to re-launch the business as a full-time events and media company. Today, Tech Cocktail and its new media brand Tech.Co deliver up-to-the-minute news, stories, how-to advice, startup competitions, events, education and a good many reminders to celebrate the startup journey. Tech.Co (Tech Cocktail) has been named by Forbes as one of the best organizations for entrepreneurs.