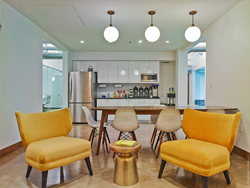 Restaurants, cafes and retail concepts are opening in MiMo each month.
Miami, FL (PRWEB) June 24, 2015
Büro Group, Miami's pioneering coworking company, has officially opened its third location in Miami's burgeoning MiMo District. Marked by the iconic Coppertone sign at 7300 Biscayne Boulevard, Büro MiMo features 11,000 square feet of flexible workspaces and amenities, including suites of varying sizes, open workstations, conference rooms, and cafe-lounge areas. With this latest outpost, Büro continues its commitment to laying roots in dynamic and emerging South Florida locations, encouraging a symbiotic relationship between its entrepreneurial membership base and the surrounding neighborhood.
'We are very excited about our new space and the overall buzz in the MiMo District," said Büro Founder and CEO Michael Feinstein. "There are great local restaurants, cafes and retail concepts opening each month in the neighborhood. It's quickly becoming a hub of creativity and culture along the Biscayne Corridor and the opening of Büro will only accelerate this transformation."
Büro's two-floor MiMo location can house up to 60 companies, and fuses mid-century modern design elements with Büro's signature urban accents and eco-friendly touches. Interior design group Fanny Haim & Associates teamed up with Studio X Architects to create Büro MiMo's stylish, "retro-chic" work environment. Aesthetic highlights include the unearthing of the building's original concrete flooring and the addition of a vintage electronic bingo machine in the communal seating area.
With locations in Midtown Miami, Sunset Harbour and now MiMo, Büro's growing community now includes over 500 members across 250 companies. In addition to local startups and creative firms, Büro is home to popular national brands such as Airbnb, Postmates, Gilt City and Barry's Bootcamp. Büro's fourth location, in Coconut Grove's historic Engle Building, is scheduled to open in September 2015.
For additional information on Büro, please visit http://www.buromiami.com, or follow them on Facebook, Twitter, or Instagram. High-res images of all Büro locations are available upon request.