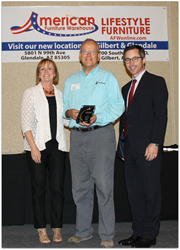 Family Business of the Year Award Winner JB Water Distillers gratefully accepts honor.
Gilbert, AZ (PRWEB) June 25, 2015
The Gilbert Chamber of Commerce recently announced business and individual award recipients at the Ninth Annual Business Awards Luncheon, presented by American Furniture Warehouse. The luncheon was held at the DoubleTree by Hilton Phoenix-Gilbert & San Tan Elegante Conference Center in Gilbert.
JB Water Distillers, headquartered in downtown Mesa, Arizona, won Family Business of the Year. This award recognizes a family-owned Chamber member that forms the cornerstone of local industry and provides a continuity of service that is valued by their employees and customers. A family-owned business is defined as two or more immediate family members who are responsible and involved in the daily business. All finalists are nominated by the local business community and winners are determined by a committee of peer Chamber members.
The founder of JB Water, John Bevell, bought a water distiller for his wife's health in 1981 and built his distiller business over the next 20 years. His grandson, Dallan Randall, eventually purchased JB Water, becoming the owner in 2008. Under Dallan's leadership, JB Water has evolved into a full service plumbing company, in addition to the ongoing water treatment services. In 2011, Dallan hired his father, Rich Randall, to assist with client relations, project management and marketing. In addition, two more of John Bevell's grandchildren now also work in the business. JB Water currently has seven service vehicles providing water treatment and plumbing services to all of Maricopa County and parts of Pinal County.
# # #
If you would like more information about JB Water Distillers or to discover how you can be a Gilbert Chamber of Commerce member, please call 817-845-1596 or email Melissa Perkins at melissa(at)910west(dot)com.