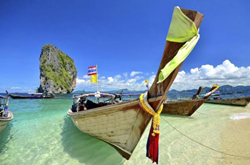 Cultural experiences, barefoot luxury on pristine beaches, or culinary-focused tours or just a few of the possibilities.
Missoula, Montana (PRWEB) June 30, 2015
Adventure Life announces the addition of new tours of Thailand, including a trip for foodies. As a leader in travel, Adventure Life has recently added multiple trips to Thailand that are tailored to specific interests. Discerning travelers who want to experience a country's cuisine now have a tour designed for them.
The "Taste of Thailand" trip takes travelers on a culinary adventure through Bangkok and Chiang Mai. Master some traditional dishes at a cooking class, wander local markets for exotic ingredients, visit a local coffee project, and compare the different tastes of each region. Enjoy delicious Thai food while experiencing the genuinely friendly people, unique culture, and beautiful landscape throughout the "Land of Smiles".
Travelers have a variety of other options during travel to Thailand. Adventure Life's "Active Southern Explorer" offers camping, biking, and kayaking to active travelers. For those desiring barefoot luxury, our "Escape to Paradise" transports you to an oasis of pristine Thai beaches. The "Thai Culture Discovery" trip is suited for travelers interested in learning historic and societal characteristics of Thailand.
"As a company, we have tried to continually expand our trip options," says Adventure Life General Manager, Jonathan Brunger. "There are so many seasoned travelers out there that we always want to be able to accommodate personal interests and requests."
To see the details of our Thailand tours visit http://www.adventure-life.com/thailand.
To explore the world with Adventure Life, visit http://www.adventure-life.com or call 800-344-6118.
About Adventure Life:
Adventure Life is a company of travelers with a passion for sharing the world with others. Our travel experience runs deep, from years volunteering in rural Africa and Central America, to research trips in Asia, studying in Europe, guiding in the Rockies, and just bouncing around every corner of the world. This deep experience is the reason behind our pioneering approach to travel and award winning itineraries. For nearly fifteen years we have been creating personal itineraries that immerse our travelers in the vibrant colors of a place, leaving both our guests and hosts enriched by the experience. From our beginnings as a Latin America specialist, we now offer private journeys, small group tours, and expedition voyages throughout the world. We pride ourselves on our intimate knowledge of our destinations and our dedication to sharing the world.
Media Contact:
Sublime Public Relations
Steve Snyders
steve(at)sublimepub(dot)com
406-728-4180