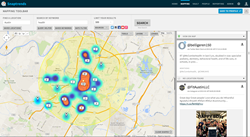 Most companies today are using information from social media to direct marketing, sales and communications strategies…
(PRWEB) June 26, 2015
Snaptrends, the most powerful location-based social media insights platform, announces it has integrated with Russian-based VK, the 8th most popular social networking site in the world with more than 280 million user accounts. Approximately 70 million social users in Russia, Belarus, Uzbekistan and Kazakhstan use the platform daily to connect with each other, share photos and news events, play games, create groups and more.
"VK is a fast-growing social network with its volume of data increasing daily, all of which is valuable to many of our U.S. based clients," says Todd Berry, vice president of Engineering at Snaptrends. "VK is a terrific addition to Snaptrends as we continue to expand our data sets globally to meet customer demand. With VK, we can bring a new source of information from another part of the world to our clients so they get the most comprehensive coverage."
The larger data platform combined with Snaptrend's ability to process massive amounts of data means customers benefit from location-based searches worldwide. Snaptrends is able to translate content into over 80 languages and offers localized translation in many languages, including Russian. Virtually every industry can gain valuable insights into their customers, industries, competitors and brands with data from social media, particularly when location is considered.
"Most companies today are using information from social media to direct marketing, sales and communications strategies," says Berry. "The location-based social media data Snaptrends can tap into means clients get more targeted data for faster response, more informed business decisions and more flexibility in how they use the data. The global scale and increasing amount of social media data out there requires a solution that can sift through irrelevant data so only what matters most rises to the top."
About Snaptrends
Snaptrends takes you inside the conversation, strips away the noise and illuminates the social media relevant to your business, organization or community. This information builds a clear view of social conversations when and where they unfold, the influencers driving those conversations, and why; ultimately giving you the ability to make more informed decisions and take more effective actions.
Founded in 2012, Snaptrends is a private company tucked in "Silicon Hills," the rolling hills surrounding Austin, Texas. At the intersection of two hot industries – cloud-technology and social media, Snaptrends is the leading provider of location-based social insights to organizations worldwide.
###
For Media Contact:
Jessica Sellers
Snaptrends