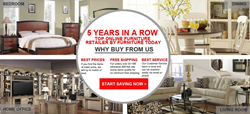 Homelement.com website is specially designed to sell furniture with the ability to customize furniture sets as needed.
East Brunswick, NJ (PRWEB) June 26, 2015
Homelement.com lists top reasons why customers should shop for furniture online on their website. Aside from the obvious reasons listed on many websites such as low price, great selections, and any other promotion lines, there are more reasons to shop for your furniture on Homelement.com.
First of all, Homelement is an expert in furniture and offer a great selection to ensure you will find the exact style you are looking for. They are very familiar with all aspects of ordering furniture online. Homelement knows which delivery methods are needed for certain items since certain furniture requires extra packing and handling. It is just not possible to ship everything via small parcel carriers
Homelement.com is also specially designed to sell their furniture with the ability to customize their furniture sets as needed. They only carry a handful of brands on their site that they partner with. This means that their customer service reps are very familiar with all of the items that they carry. They found early on that it is better to be an expert on a handful of quality brands rather than trying to be a super store with many brands.
Homelement's customer service representatives are based in the US and they do not outsource their customer service. Each customer service representative is knowledgeable on the products listed on their site. All orders are reviewed by a representative and it is not uncommon for the reps to actually contact customers to verify some information on their orders to ensure accuracy.
There are many websites online that sell furniture, including some of the very large sites or the extension of big box stores. However, not all sites are created equal and sometimes a specialist is better than the jack of all trades.
About Homelement.com
Homelement.com is a leading retail supplier of home furnishings with more than a dozen years of industry experience. Homelement offers a complete selection of home furniture from major furniture brands in various categories from dining furniture, bedroom furniture to living room furniture and more.