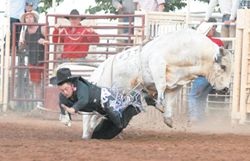 Duncan, OK (PRWEB) June 25, 2015
Help provide vision care for Stephens County children and have a fun family night at the same time. Come experience one of the oldest outdoor rodeos in the state of Oklahoma and catch all the action every night beginning at 7:30 pm.
Tickets are $8 at the gate, with children ages 4-12 years old $3 at the gate. Tonight, Thursday night, is family night for $10.
For more information contact The Duncan Convention and Visitors Bureau at 1-800-782-7167 or visit http://www.duncanok.org.