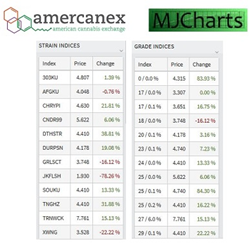 This acquisition is a milestone for Amercanex moving closer to achieving another one of our goals – to be recognized as the Cannabis Industry's gold standard for data warehousing / distribution for the global financial community," said Steve Janjic - CEO
Denver, Colorado (PRWEB) June 24, 2015
Amercanex, the American Cannabis Exchange (ACE), today announced that it has signed a Letter of Intent to acquire MJCharts for an undisclosed sum. ACE is the first fully electronic cannabis marketplace in which cultivators, wholesale distributors and retail vendors can buy and sell their inventories in a fully transparent intra-state market. MJCharts provides the most accurate daily regional consumer price indexes for over 10,000 strains of cannabis, hemp and cannabis-related industries throughout the U.S..
The Amercanex acquisition of MJCharts marks another first in the Cannabis Industry, one that will help enable Amercanex to continue to expand its' ACE Marketplace application reach that will include providing streaming live pricing and charting for Amercanex Transacting Members, as well as for over 12,000+ MT4 brokers worldwide.
"We are very excited to have the opportunity to acquire MJCharts. This acquisition is a major milestone for Amercanex as we continue to move closer to achieving another one of our goals – to be recognized as the Cannabis Industry's gold standard for data warehousing and distribution for the global financial community," said Steve Janjic, CEO of Amercanex. "We believe this acquisition coupled with our disruptive technologies is a major first step of many to follow as we expand our company footprint into the world of Big Data that we believe will eventually result with Amercanex becoming the first global cannabis commodity exchange for speculators," said Janjic.
According to a 2014 publication by Ernest & Young titled "Ready for Take Off", Big Data technologies represent a disruptive innovation that market-leading businesses will use to drive competitive advantage. Seventy-nine percent of business "decision-makers" believe that big data will boost revenue. The value of big data lies in the insights that businesses can draw from it, rather than in the information itself.
"I am very pleased that MJCharts.com will be part of the Amercanex ACE Marketplace, and to be able to work closely with Steve Janjic [CEO of Amercanex] to further realize the potential of our data collection technology. We know the importance of bringing together the current cannabis industry leaders with the greater business community as a means to establish cannabis as a legitimate commodity. We are eager to contribute to the effort to create a secure and fair cannabis marketplace." said Noah J Persin, CEO of Price Index Associates.
About Amercanex
Amercanex operates the ACE marketplace), the web-based user-interface to the Electronic Cannabis Marketplace (ECM), offers a comprehensive suite of tools and solutions tailored to address a diverse client base. The proprietary platform ensures that product, quantity, quality and best-available pricing are shown, thus ensuring a completely transparent, neutral and non-manipulated free-market where supply and demand are the key factors affecting price discovery. To learn more about Amercanex, please visit http://www.amercanex.com.
About MJCharts
MJCharts is web-based provider of the most accurate daily regional consumer price indexes in cannabis, hemp and related industries. We know the importance of bringing together the current industry leaders with the business community as a means to move forward. To this end, we at MJCharts would like to be a part of the further normalization of the use of cannabis for medicine and recreation, and to help safeguard the individuals who have worked tirelessly over the years to ensure a safe and honest product supply. http://www.MJCharts.com
Amercanex contact:
Robert Ruiz, Chief Marketing Officer
Amercanex Inc.
720.360.1200
rruiz(at)amercanex(dot)com
Nothing above or herein constitutes investment advice or an offer, or solicitation of an offer, to buy or sell any financial product. To the maximum extent of the law, Amercanex Corporation and the ACE Marketplace accept no responsibility for any reliance placed on the contents of this document and accepts no liability for any direct, indirect or any other loss arising out of any use of the information contained in this document or any omission from it. The ACE Marketplace is not available to non-licensed/ authorized participants. It is not intended for distribution to, or use by any, person or entity in any jurisdiction or country where such distribution or use would be contrary to any applicable law or regulation.