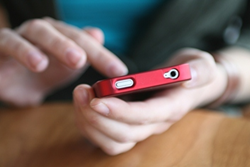 Raising awareness of how digital gift exchanges work is a top priority
Chicago, IL (PRWEB) June 25, 2015
Elfster.com, the top­ rated Secret Santa generator, is proud to announce early successes of its promotional plans to publicize its gift exchange generator technology and extend its reach beyond the traditional holiday season. Known as the leader in Secret Santa online gift exchanges, the company has been working with large online communities to allow them to host exchanges on the site.
"We are very pleased with our number of online communities using the site," explained Peter Imburg, CEO of Elster.com. "We currently have exchanges underway for book groups, crafting groups, fitness enthusiasts and bloggers. After getting to know each other online, these gift exchanges allow people to swap gifts related to their common interests. As we are not quite halfway through the year, we are happy to report that many new communities have adopted the platform to host their exchanges."
To learn more about Elster's technology, and its gift exchange generator please visit http://www.elfster.com/. There one can learn about the technology, and even sign up for a free account.
Using Online Gift Exchange Generators Throughout the Year While the most famous example of a gift exchange is, of course, Secret Santa, the technology on which Elfster.com is based has many applications throughout the year. Common applications are online community gift exchanges, corporate gift exchanges, and gift exchanges by non­profits to raise funds and materials for needy individuals and families.
Initial results of Elfster's promotional efforts include the following. First, the company's growth rate has accelerated year over year amongst gift exchanges and wish lists created world wide. Second, the site is currently hosting a number of large community gift exchanges, with hundreds of participants opting in to each exchange.
"Raising awareness of how digital gift exchanges work is a top priority," explained Peter Imburg. He continued, "We are very excited to bring awareness of our technology to non­traditional uses such as online community gift exchanges, corporate gift exchanges and non-profit gift exchanges."
About Elfster.com
Elfster is the Web's top­rated online Secret Santa generator. Participants use the company's service to organize a holiday gift exchange of any type, learn Secret Santa rules and how to play, organize family, office, community and friends and generally keep track of your holiday or Christmas gift exchange all conveniently online. Elfster makes it easy, free, and fun!
Elfster.com