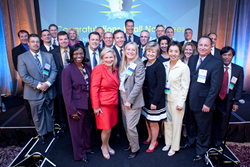 This year's nominees are making great strides toward improving security efforts for their organizations...
ATLANTA, GA (PRWEB) June 24, 2015
T.E.N., a technology and information security executive networking and relationship-marketing firm, announced today the nominees vying for the 2015 Information Security Executive® and Project of the Year Awards in the Western U.S. Region. Executives include top-ranking decision makers representing national to global organizations in retail, health care, government, food and financial services; and projects include large-scale technology endeavors that address issues of application security and security software development, PCI compliance, incident response and other key industry challenges.
Executives Nominees:
Selim Aissi, Vice President, Global Information Security, Visa
Gary Coverdale, Chief Information Security Officer, Asst. Chief Information Officer, Napa County
Dave Estlick, Vice President, Technology Infrastructure and Enterprise Security, Chief Information Security Officer, Starbucks Coffee Company
Gary Hayslip, Deputy Director, Chief Information Security Officer, City of San Diego
Steve Oberg, Chief Information Security Officer, DaVita HealthCare Partners, Inc.
Matt Steele, Vice President of Infrastructure Security, Salesforce
William Worthington, Vice President, IT Security, Caesars Entertainment
Executive nominees are also eligible for the ISE® West People's Choice Award, which given to the top candidate selected by peers in the security industry. Cast your vote by April 3 for this year's winner; visit: https://www.surveymonkey.com/r/WEST_PCVOTING
Project Nominees:
Caesars Entertainment, Tokenization of All Caesars PCI Environment
DaVita HealthCare Partners, Inc., Application Security Program Management
Janus, ElasticSearch Security Visualization Engine
Live Nation, Global PCI Standardization Project
Netflix, Fully Integrated Defense Operation (FICO)
Starbucks Coffee Company, Service Transformation Program
Visa, Implementing a Language-Based Secure Software Development Life Cycle
"This year's nominees are making great strides toward improving security efforts for their organizations," said T.E.N. CEO & President Marci McCarthy. "We are excited to celebrate their success and welcome them into the ranks of distinguished ISE® Alumni."
The ISE® West Awards recognize executives and projects, which have made a positive impact on their organizations through risk management, data-asset protection, regulatory compliance, privacy and information security. Nominations are sent to T.E.N.'s distinguished panel of ISE® judges for review and scoring.
Judges:
Matthew Archibald, Vice President, Information Security, Silver Spring Networks
Bill Boni, Vice President and Corporate Information Security Officer, T-Mobile USA
Grace Crickette, Special Consultant to the University, San Francisco State University
Richard Seiersen, General Manager, Cyber Security and Privacy, GE Healthcare
Max Solonski, Vice President of Information Security, BlackLine Systems
Mike Wilson, Vice President, Chief Information Security Officer, McKesson
All nominees will be recognized at the ISE® West Executive Forum and Awards on Aug. 20, 2015 at the Westin St. Francis in San Francisco. Finalists and winners are announced at the awards gala that evening and recognized through press coverage and inclusion on the T.E.N. and ISE® websites. The event is made possible by kilobyte sponsors, Delphix, Lookout, NetIQ, SecurityScorecard, Tripwire and Veracode; and display sponsors, Bromium, Click Security, Intralinks, Invincea, Seculert and Tufin. Read more online: http://ten-inc.com/ise/west/default.asp
About T.E.N.
T.E.N., a national technology and security executive networking organization, facilitates peer-to-peer relationships between top executives, industry visionaries and solutions providers. Nominated for numerous industry awards, T.E.N.'s executive leadership programs enable information exchange, collaboration and decision-making. Its flagship program, the nationally-acclaimed Information Security Executive® (ISE®) of the Year Program Series and Awards, is North America's largest leadership recognition and networking program for security professionals. Other offerings include the ISE® Lions' Den and Jungle Lounge, T.E.N. Custom Programs and the ISE® Industry Expert Advisory Services, empowering IT solutions providers to gain access to highly credentialed IT business veterans' expertise. For information, visit http://www.ten-inc.com.
About ISE® Award Program Series
For more than a decade, the Information Security Executive® (ISE®) of the Year Award Program Series has empowered security executives and their project teams to Connect, Collaborate and Celebrate. Recognized as the industry's most prestigious IT Security award program, it has become the most anticipated award program for security executives and their project teams. Winners have included executives and project teams from leading organizations such as Nike, The Walt Disney Company, the United States Postal Service, Schlumberger, Texas Instruments, JPMorgan Chase & Co., Equifax, Comcast, PayPal, Northrop Grumman Corporation, and Nationwide.
Our distinguished ISE® Judges are past nominees representing a cross section of industries, including commercial, government, health care and academic sectors. For this reason, the ISE® Awards represent the best achievements of the year as evaluated by those regarded as the industry's most influential and successful thought leaders. Coupled with a one or two-day executive summit, the ISE® Awards are held across the country and Canada in major cities including Atlanta, Chicago, Dallas, New York and San Francisco. The ISE® Awards Program Series has reached more than 10,000 executives across a broad range of industries and has been a major influence in executives' careers, knowledge sharing, and the development of peer-to-peer relationships.
# # #
Note to editors: Trademarks and registered trademarks referenced herein remain the property of their respective owners.