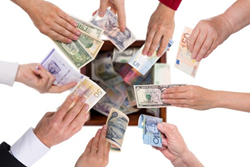 Chicago, IL (PRWEB) June 24, 2015
Private placement are hot. But what should a company consider before going down the path to a private placement? What are the risks? How can they be mitigated? What other fundraising options should be considered in parallel? Financial Poise are pleased to announce the premier of its webinar, "How to Tackle a Private Placement" on June 26th. To register, click here.
Featured speakers are Vanessa Schoenthaler, Douglass Ellenoff, and Peter Feinberg.
Schoenthaler advises individuals and foreign and domestic public and private entities with regard to a variety of undertakings, including fund formation and operation, private equity and venture capital transactions, private placements of equity, debt and hybrid securities, initial, secondary and alternative public offerings, exchange listings, corporate restructurings, mergers, acquisitions and dispositions, joint ventures and strategic alliances and matters of corporate governance and regulatory compliance.
Ellenoff has, in the last several years, been involved at various stages in numerous registered public offerings, including more than 100 financings; hundreds of private placements into public companies, representing either the issuers of those securities or the registered broker-dealers acting as placement agent; and over 80 registered blind pool offerings (commonly referred to as "SPACs"), 30 of which have consummated their IPO's raising nearly $2.0 billion. He also provides counsel with regard to ongoing (SEC, AMEX and NASD) regulatory compliance.
Feinberg has almost 25 years' experience representing companies in all aspects and many sectors of merger and acquisition transactions. Mr. Feinberg has successfully closed well over 100 merger and acquisition transactions, representing buyers and sellers, public and privately held companies, multinational firms, family owned businesses, and private equity firms.
The webinar premiers on June 26th and is available thereafter on demand after that.
Financial Poise provides unbiased news, continuing education, and intelligence to private business owners, executives, investors, and their trusted advisors. For more information and to read free interesting articles go to http://www.financialpoise.com