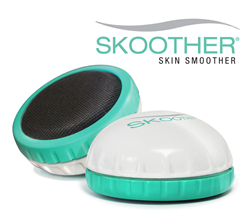 "The micro-abrasive screen is very effective. It's much safer than sharp metal foot files and the screen allows exfoliated skin to easily pass through the mesh without clogging up like emery or pumice stones."
Glendale, CA (PRWEB) June 26, 2015
Two California inventors launched their first funding project for a unique foot exfoliator - the Skoother Skin Smoother – on crowdfunding giant, Kickstarter. The Skoother is the brainchild of long time inventor team Kurt and Scott Comstock, two brothers in Los Angeles, whose works include the Margarator Party Blender, the CycoCycle and 3D Helmets.
During the summer months, rough, cracked, and callused feet can become a major cause of discomfort and embarrassment for many women and even men, especially as they bare their feet in public more often. One study claims that "foot shame" affects an eye-opening 84% of women across the country. In fact, more than half (57%) of all women surveyed report feelings of embarrassment about their feet, according to the American Podiatric Medical Association.
Thin-soled shoes, sandals or flip-flops that expose the heel of the foot are among the leading causes of rough, cracked heels. Cracked heels are commonly caused by dry skin (xerosis), and made more complicated by heel calluses, which is simply a build-up of dead skin. Regular foot maintenance is the best way to prevent the problem.
In the past, metal foot files and various abrasives such as pumice and emery have been used to either lightly exfoliate skin on the bottoms of feet or slough off thick layers of built-up calluses on the heels of feet. The Comstocks designed a hand-held device, called the Skoother Skin Smoother, with a unique micro-abrasive smoothing screen that can do both; tackles stubborn calluses and perform light-duty, weekly foot care.
The Skoother's smoothing screen, which is made by bonding tiny abrasive silicon particles to a flexible nylon mesh, comes in two different grades; a fine grit for gentle smoothing of sensitive skin on the elbows, knees and hands, and a coarser grit that can quickly remove and smooth rough, callused and cracked skin on the heels and feet.
Each Skoother Skin Smoother comes with several washable abrasive smoothing screens that are replaceable, and will last through several heavy-duty foot treatments, or months of weekly foot maintenance.
The ergonomically designed Skoother fits comfortably in the hand, and is easy to hold while gently sanding and smoothing rough and callused skin. It's also fast and easy to disassemble for quick cleaning or replacement of the abrasive screen.
Co-inventor, Kurt Comstock says, "The micro-abrasive screen is very effective. It's much safer than sharp metal foot files and the screen allows exfoliated skin to easily pass through the mesh without clogging up like emery or pumice stones."
With the launch of their Skoother Skin Smoother, the Comstocks are hoping to capture a significant portion of the retail foot care market and will be entering a category dominated in recent years by the "As Seen On TV" industry.
"We want to offer people a better, more effective exfoliator than the sharp metal cheese graters or gimmicky battery-powered grinders that are available now," says Scott. "The Skoother Skin Smoother simply performs faster, safer, and easier than anything else on the market."
By using Kickstarter, the Comstocks can fund this project turning their Skoother into a reality, and raise awareness that there is a better alternative for DIY foot care. The crowd-funding campaign is currently running through August 1st. The first 300 backers receive a Skoother for just $12 exclusively on the Kickstarter project page.
Note to Editors:
All media inquires can be directed to Scott(at)comstockstudios(dot)com.
Scott Comstock and Kurt Comstock having been developing successful products and inventions together for 25 years from their Glendale, Ca design studio. For more information on many of their past inventions along with media facts and bios, visit their website: http://www.theinventionbrothers.com.