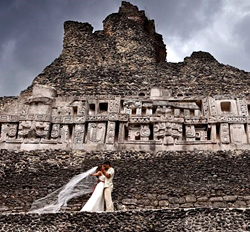 We've been doing this for a long time now and have complete confidence in being able to offer something exceptional, seamless and affordable
San Ignacio, Belize (PRWEB) June 26, 2015
A recent article in Destinations Weddings & Honeymoons magazine featuring Belize and The Lodge at Chaa Creek is a timely reminder that the Belizean eco-resort is now taking bookings for "September Weddings and Honeymoon Month", according to the Lodge at Chaa Creek's wedding planner, Denise Duran.
The article also highlights Belize's growing stature as a wedding and honeymoon destination of choice, Ms Duran said.
"It shows how far Belize has come from being perceived primarily as offering the world's best diving, outdoor adventure and Maya cultural attractions. While those things are still true, we're now also seen as a romantic destination of choice, with a great food and spa culture. It's been a long time coming, but as attention from sources such as "Destination Weddings & Honeymoons" shows, the media is catching on," she said.
The Destinations Weddings & Honeymoon feature, "How to Find the Right Caribbean Island for Your Wedding" recommends wedding destinations under various headings, with Belize leading a selection of four "Unexpected"; destinations, "endowed with an incredibly rich bounty of nature — lush rainforests, mountainous lookouts and inland lakes — along with historical and cultural elements. Think of these destinations as roads less traveled — and filled with surprises."
In describing Belize, the article's author, Dave Herndon, notes that; "In this small Central American country, English is the official language, and the coastal towns and offshore cayes are infused with a decidedly Caribbean vibe. You can explore Maya sites and visit a jaguar reserve in the jungle, as well as snorkel, dive and fish on the second-largest barrier reef in the world… Or forgo the beach altogether and settle into an inland eco-lodge like… Chaa Creek..."
Ms Duran said that DW&H feature highlights just a few of Belize's unique attractions for couples and is a timely reminder to begin booking for the eco-resort's September Weddings and Honeymoon, which includes a five night, all-inclusive Weddings and Honeymoon vacation package that will be offered only during September 2015.
"We wanted to create an all-inclusive wedding and honeymoon vacation package that would give couples and their guests an experience of a lifetime, with everything included for one affordable price.
"From the time we collect guests at Belize's international airport until we drop them back off absolutely everything is taken care of, leaving them free to concentrate on each other and their family and friends.
"Even before the couple arrives they have a personal wedding or honeymoon coordinator to consult with and who organises a celebrant of their choice, the venue, cake, flowers, professional photographer, bride's day at the spa, couples massages, meals and all details down to the bridal bouquet and groom's boutonniere.
"We know how important this day is for couples, so we build in flexibility and offer options such as venues in a tropical garden, pristine rainforest, or in the shade of an ancient Maya temple. If couples would like a release of huge iridescent Blue Morpho butterflies during the ceremony, that's no problem," she said.
Ms Duran noted that "Destinations Weddings & Honeymoons" had previously selected Belize as one of the top wedding destinations of 2015, and has highlighted Chaa Creek as a desirable honeymoon destination as well, referring to it as "The granddaddy of Belize's eco-lodges".
It's all a far cry from the early days when archaeologists, university researchers, film location scouts, birding enthusiasts and adventurers made up the bulk of Chaa Creek's clientele, Ms Duran said.
"Ever since Chaa Creek started as a small family farm that began accepting guests and then kept growing, its growth has been organic, driven by and responsive to the input of our guests, and I think that's our biggest point of difference when compared to other destinations," she explained.
"When first one couple, and then more began asking us to arrange weddings here, it felt as if we opened a door. To be honest, we were surprised at first with how many people came though that door. Now, with a fine-dining restaurant, world-renowned spa and an impressive range of amenities and activities within our 365-acre private nature reserve, we're able to cater to couples from all over the world who are looking to start married life or celebrate their honeymoon by doing something special together," she added.
Ms Duran suggested that couples contact their travel agents or Chaa Creek directly, or visit Chaa Creek's website for further details and to secure bookings.
"We've been doing this for a long time now and have complete confidence in being able to offer something exceptional, seamless and affordable. Chaa Creek is the only eco-resort I know of with a dedicated 'adventure romance' team, and we have a real passion and enjoyment of our work. There's nothing like seeing the joy on a couple's faces after another successful wedding. For me, it's the ultimate job satisfaction. I wouldn't trade it for anything," Ms Duran said.
The Lodge at Chaa Creek is a multi award winning eco resort set within a 365-acre private nature reserve along the banks of the Macal River in Belize.
ENDS