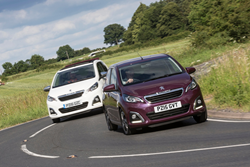 The Peugeot 308 GTi will be revealed at this year's festival and will also participate in the Goodwood Hillclimb
(PRWEB UK) 25 June 2015
Peugeot has revealed its line-up for this year's Goodwood Festival of Speed and Moving Motor Show. The manufacturer's stand will play host to a selection of attractions, demonstrations and exhibitions throughout the festival (25th-28th June).
The Peugeot 308 GTi will be revealed at this year's festival and will also participate in the Goodwood Hillclimb, along with the 404 Endurance model.
The Peugeot 404 currently resides in the museum de l'aventure Peugeot in Sochaux but was known for its record breaking success on Monthléry Ring, when five drivers took part in a 72 hour relay. Later the Peugeot 404 saw success at the Le Mans cup in 2009 and 2010.
Showcased on Peugeot's stand in 2015 will be the Peugeot 108 TOP! A car which is chic and at home in the city is brought to this track in West Sussex. The 108 offers lots of choice, available as a hatchback as well as a cabrio with a retractable fabric roof – the 108 TOP! Cabrio also comes in a combination of colours both inside and out.
This year's Dakar rally entry from team Peugeot Total, the 2008 DKR model, will be on display at the Goodwood Festival. World rally champion, Carlos Sainz, will be racing the car through the South American terrain on behalf of Peugeot. The 208 WRX will also feature at this year's Peugeot stand – a rally model that will be at this year's World Rally Cross Championships, driven by team Peugeot-Hanson.
Peugeot will present its 308 R HYbrid Concept car at the festival. Displaying the latest in hybrid technology, the 308 R HYbrid model is powered by a 500hp engine, and has four driving modes available for optimum performance and efficiency.
New cars are not the only vehicles visitors can feast their eyes on at this year's Goodwood Festival. Introduced to the market in 1987, the Peugeot 309 GTi Goodwood special edition will be making an appearance. Just 398 of the limited edition 309 GTi models were manufactured, and approximately 100 now remain on the roads.
The first Goodwood Festival of Speed was held over two decades ago. Since then, the festival has grown in popularity among many driving enthusiasts – with around 150,000 attendees visiting the show every year. This year's theme is 'Flat-out and Fearless: Racing on the Edge', with special guests including Bradley Wiggins and Chris Ingram.
Learn more about Peugeot's stand at the Goodwood Festival of Speed 2015, visit: http://www.peugeot.co.uk/goodwood-festival-of-speed/
ENDS
Notes to editors:
Press contact
To request additional information, please contact public relations manager Kevin Jones on:
E: kevin(dot)jones(at)peugeot(dot)com
T: +44 (0)2476 884215
About Peugeot
Peugeot has designed and manufactured production cars and concept models for over 125 years, with its production models being driven in 160 countries. The French manufacturer's latest range of production models includes the Peugeot RCZ R, New 308 and the 108.
About Goodwood Festival of Speed
One of the automotive industry's most celebrated events, the Goodwood Festival of Speed attracts 150,000 visitors from around the world. Car manufacturers gather to display their latest models, concept cars and technologies, as well as classic models from the past. The Goodwood Festival of Speed and Moving Motor Show 2015 will take place 25th-28th June.