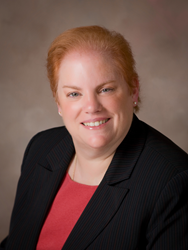 Wethersfield, Conn. (PRWEB) June 24, 2015
Qualidigm, the mission-driven national healthcare consulting company in Wethersfield, Conn., announced today that Ann Spenard, MSN, RN-BC, vice president and principal, was recently elected to the board of the Connecticut League for Nursing (CLN). Effective July 1, 2015, Spenard will serve CLN's Board of Directors for a three-year term.
"I am honored to join CLN's innovative Board of Directors to promote change in the world of nursing education," said Spenard. "I look forward to this rewarding experience to support the organization's mission of promoting excellence in nursing education to build a strong and diverse workforce to advance the nation's health."
"Higher education and professional development in nursing are vital to quality patient care and has a causal effect on lower mortality rates, fewer medical errors and improved patient outcomes," said Tim Elwell, Qualidigm president and CEO. "Ann is dedicated to lifelong learning. She brings a wealth of clinical and operational experience to the CLN board. I am certain she will make meaningful contributions to advance the important work of CLN."
Spenard brings more than 30 years of nursing experience related to training and development, patient safety, nursing home quality improvement, electronic data collection systems, workflow design and culture change to the CLN board of directors. With her areas of expertise in Long Term Care and Geriatrics, she has provided leadership on national quality improvement initiatives and is a frequent national and local speaker on patient safety education initiatives. Prior to joining Qualidigm in 1998, Spenard was founder and president of Healthcare Consultation & Education Resources, Inc., where she provided consultation and education to many organizations on issues of Long Term Care and Geriatrics and served as an expert legal witness on Long Term Care Standards.
CLN's focus is to create better, easier ways to access the latest nursing information, identify schools and programs to earn additional academic degrees, and help nurses develop the knowledge, attitudes, skills, and competencies needed for career advancement.
About Qualidigm:
With its corporate headquarters in Wethersfield, Conn. and offices in Concord, NH; Barre, VT; and Providence, RI, Qualidigm's mission is to improve the quality, safety, and cost-effectiveness of healthcare through transformational change. Qualidigm provides consulting services to public and private sector clients nationwide. These services include consulting, data analysis, health information technology, patient safety, quality improvement, and utilization review. Qualidigm is part of a team that is serving as the Medicare Quality Innovation Network Quality Improvement Organization (QIN-QIO) under contract with Centers for Medicare and Medicaid Services for New England. Qualidigm is also a Patient Safety Organization (PSO) as designated by the State of Connecticut. http://www.Qualidigm.org
###