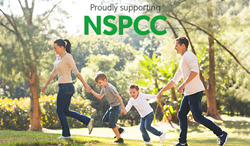 "We are thrilled to have raised this sum as part of our partnership with the NSPCC and the milestone of £100,000 is something our customers can be very proud of." - Ian McCaig, First Utility CEO
London (PRWEB UK) 25 June 2015
First Utility, the UK's largest and fastest growing independent gas and electricity supplier, has announced today that its May charity fundraising campaign for the NSPCC is set to raise more than £100,000*.
During this period, First Utility pledged to donate £2 a month for two years on behalf of every new customer that switched gas and electricity at http://www.first-utility.com. * As well as raising money for the NSPCC, customers who switch their gas and electricity to First Utility save an average of £300 a year - those switching via the website in May collectively saved more than £620,000*.
The funds raised are part of an ongoing two year partnership with children's charity the NSPCC, which aims to raise a total of £250,000 to support the charity's work protecting children and preventing abuse.
May's charity fundraising activity culminated at the First Utility Super League's Magic Weekend (30-31 May). In preparation for the weekend, Newcastle United Legends Peter Beardsley, Rob Lee and John Beresford, went head to head with League stars Jon Wilkin (St Helens), Marc Sneyd (Hull FC), and Jack Owens (Widnes Vikings) in an ultimate kicking challenge. The stars were challenged to hit targets in the river Tyne, with each on-target hit adding money to the NSPCC pot. Find out more about the First Utility Super League Ultimate Kicking Challenge.
Ian McCaig, First Utility CEO said: "The result of the May fundraising campaign for the NSPCC is a significant achievement and we'd like to thank all of our new customers who've made a real difference to the lives of vulnerable children. We are thrilled to have raised this sum as part of our partnership with the NSPCC and the milestone of £100,000 is something our customers can be very proud of."
An NSPCC spokesperson said, "We're absolutely delighted that our partnership with First Utility has raised so much in its first month. We'd like to thank everyone who has made a donation – the money will help support our services like ChildLine, ensuring we're there for children whatever their worry, whenever they need someone to speak to. We'd also like to thank everyone at First Utility for their support and we look forward to continue working together in our fight for every childhood."
*This represents the total potential donation of £1 per fuel, per month for two years if all eligible energy supply applications made in May go live.
** Customers who obtained a quote and subsequently went on to register with first:utility to one of our 1, 2 or 3 year fixed term and everyday tariffs between 1st January 2015 and 31st March 2015 saved an average of £300 per year.
***First Utility is donating £1 per month for two years to the NSPCC for each new supply (£1 for electricity and £1 for gas) for new customers that signed up direct via the First Utility website in May 2015, regardless of tariff.
About First Utility
First Utility is the UK's fastest growing and largest independent energy supplier. It supplies gas and electricity to more than 780,000 customers throughout the UK and is committed to helping them reduce their energy bills by offering cheaper gas and electricity tariffs, helping customers use less energy through the use of innovative technology and campaigning for industry change. First Utility also donates 1% of its profits each year to the First Utility Foundation, an independent charitable organisation with a goal to improve the lives of vulnerable families and individuals across the UK.
About the NSPCC
The NSPCC is the only children's charity fighting to end child abuse in the UK and Channel Islands. Using voluntary donations, which make up more than 90 per cent of our funding, we help children who've been abused to rebuild their lives, we protect children at risk, and we find the best ways of preventing child abuse from ever happening. So when a child needs a helping hand, we'll be there. When parents are finding it tough, we'll help. When laws need to change, or governments need to do more, we won't give up until things improve.
Our ChildLine service provides a safe, confidential place for children with no one else to turn to, whatever their worry, whenever they need help. Children can contact ChildLine 24 hours a day, 365 days a year on 0800 1111 or by visiting http://www.childline.org.uk
Our free helpline provides adults with a place they can get advice and support, share their concerns about a child or get general information about child protection. Adults can contact the helpline 24 hours a day, 365 days a year on 0808 800 5000, by texting 88858 or visiting http://www.nspcc.org.uk