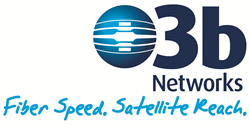 "O3b is honored to be recognized by IEEE as one of the standout technologies of the year,"
St. Helier, Jersey, Channel Islands (PRWEB) June 24, 2015
O3b Networks today announced that it has received IEEE Spectrum's Emerging Technology Award. This award is presented to the technology having the most promising potential to provide the greatest financial return from broad commercial application.
The use of O3b satellites, which are closer to the earth than conventional geostationary (GEO) satellites, reduces latency, increases internet speed and improves voice and video quality for the user. The O3b network provides satellite connectivity rivalling the performance of long-haul terrestrial fiber to under-connected customers in remote and isolated population centers, emerging markets, Oil & Gas and Maritime. Higher performance connections enable applications like streaming HD video, online education, telemedicine and cloud-based services that could not have been used over a traditional satellite connection.
As part of its commendation, IEEE noted that "O3b Networks is revolutionising communications with a groundbreaking, next-generation satellite constellation designed to bring better, faster, and more affordable connectivity."
The IEEE Honors Ceremony took place on 20 June in New York City, NY, USA. A video of the event is available on IEEE.tv at https://ieeetv.ieee.org/ieeetv-specials/2015-ieee-honors.
"O3b is honored to be recognized by IEEE as one of the standout technologies of the year," said Stewart Sanders, Chief Technology Officer for O3b Networks. "It's particularly gratifying to receive this award from such a prestigious organization outside the satellite industry, reflecting O3b's growing reputation in the telecommunications and technology industry. This commendation echoes what we regularly hear from customers and partners that are working to provide scalable, strategic high speed internet and mobile connectivity in areas where it has not traditionally been possible."
Ends
For further information please contact:
Jason Wauer O3b Networks
Email: pr(at)o3bnetworks(dot)com
Kate Nesbitt SpeakerBox Communications
Tel: + 1 703-287-7814
E-mail: O3b(at)speakerboxpr(dot)com
About O3b Networks Limited
O3b Networks Limited is a global satellite service provider operating a next-generation satellite network for telecommunications operators, Internet service providers, enterprise and government customers in emerging markets. The O3b system combines the global reach of satellite with the speed of a fiber‐optic network providing billions of consumers and businesses in nearly 180 countries with low‐cost, high‐speed, low latency Internet and mobile connectivity. O3b Networks' investors include SES, Google, Liberty Global, HSBC Principal Investments, Northbridge Venture Partners, Allen & Company, Development Bank of Southern Africa, Sofina, Satya Capital and Luxempart. O3b Networks is headquartered in St. Helier, Jersey, Channel Islands.
About IEEE Spectrum
IEEE Spectrum is the award-winning, flagship magazine published monthly by IEEE, the world's largest organization of technology and business leaders. Over 400,000 executives, engineers, and computer scientists at the world's largest companies and universities look to IEEE Spectrum and its website each month for the details behind big technology-related stories that affect their world, either as technically savvy citizens or as working technologists. Winner of the 2012 National Magazine Award for General Excellence, IEEE Spectrum readership comprises the largest concentration of high-tech professionals and senior managers of any publication in its niche. http://spectrum.ieee.org
About IEEE
IEEE, the world's largest technical professional organization, is dedicated to advancing technology for the benefit of humanity. Through its highly cited publications, conferences, technology standards, and professional and educational activities, IEEE is the trusted voice on a wide variety of areas, including aerospace systems, computers, telecommunications, biomedical engineering, electric power, robotics and automation, and consumer electronics. Learn more: http://www.ieee.org