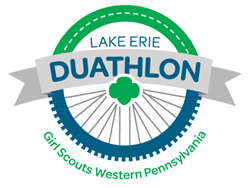 The Duathlon is an Erie classic, and we are looking forward to bringing it back to the community.
Erie, Pa. (PRWEB) June 24, 2015
The Erie (Pa.) Sports Commission is pleased to announce the Lake Erie Duathlon will take place at Presque Isle State Park in Erie on Sunday, August 2, 2015. The event will be hosted by and benefit Girl Scouts Western Pennsylvania (GSWPA).
The Duathlon consists of a 5K run, followed by a 20K bike ride, then another 5K run. All events start and finish at the Presque Isle State Park Beach 11 parking lot. The bike portion of the race will be one entire loop of the park, and each 5K will be a different loop.
Each participant receives a performance cap featuring the race logo and every finisher receives a medal.
Awards will be presented to overall female and male finishers, first place in each age group, and first place in each relay category.
All proceeds of the race benefit Girl Scouts Western Pennsylvania.
The race's first entrant, Lindsay Lindsey, 27, is a runner who recently discovered cycling while cross training for a half-marathon.
"I fell in love with biking like I did running," Lindsey said. "I love the feeling of running and biking mixed with distance."
Lindsey will compete in the open division, which means she'll complete the running and biking portions on her own. "I am ready to take this challenge on," she added. Two-person teams, consisting of one cyclist and one runner, can compete in one of three relay divisions: male, female or mixed relay.
"The Duathlon is an Erie classic, and we are looking forward to bringing it back to the community," said Missy Mattera, director of customer care for GSWPA. "With the help of the Erie Sports Commission, we hope to draw many participants to Erie to compete in a fun and competitive event, which will benefit Girl Scouts throughout western Pennsylvania."
"We are excited to be a part of this event as it makes its return to Erie," said Ron Sertz, executive director of the Erie Sports Commission. "Erie has the perfect venue for such an event in Presque Isle State Park, and I am certain that GSWPA will make this a great annual event."
For more information, please visit lakeerieduathlon.org.
About the Erie Sports Commission
The Erie Sports Commission is committed to promoting the Erie region as a prime destination for sports and recreation. The major goals of the ESC are to attract, create, support, and host sporting and recreational events that have a positive economic impact on the region, and assist in maximizing the potential of all regional sports facilities and venues. The ESC strives to enhance the image of Erie by showcasing the community, promote wellness through healthy lifestyles, and improve the quality of life for community members of all ages.
About Girl Scouts
Founded in 1912, Girl Scouts of the USA is the preeminent leadership experience for girls and is the leading authority on girls' healthy development. Girl Scouts builds girls of courage, confidence and character, who make the world a better place. The 3-million-member organization serves girls from every corner of the United States and its territories. Girl Scouts of the USA also serves American girls and their classmates attending American or international schools overseas in 90 countries. For more information on how to join, volunteer, reconnect or donate to Girl Scouts Western Pennsylvania, call 800-248-3355 or visit gswpa.org.