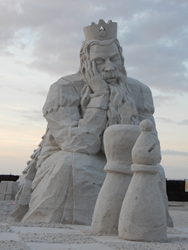 FORT MYERS BEACH, Fla (PRWEB) June 25, 2015
Get ready to pound sand! The 29th Annual American Sand Sculpting Championship is returning to Fort Myers Beach November 20 through 29, 2015 with even more things to do and more sculptures to see.
Master Sand Sculptors will return to Fort Myers Beach forming the largest sand sculpting event in the state plying their craft and showcasing their artistry in what USA Today and CNN Travel have named a must see and one of the 10 best sand sculpting competitions in the world.
Big C Events, Pinchers, the Wyndham Garden Hotel on Fort Myers Beach and The Sand Lovers, all of which have been involved in other successful sand sculpting events including the World Championships of Sand Sculpting, will once again manage the event in coordination with the Greater Fort Myers Beach Chamber of Commerce and various local charity benefactors.
"With 825 miles of beautiful beaches in the Sunshine State, it's no wonder Florida is once again playing host to the American Sand Sculpting Championship," said Will Seccombe, President & CEO of VISIT FLORIDA. "We're pleased the event is returning to Fort Myers Beach and know that the area will provide a stunning backdrop for the talented sculptors and their fans visiting from around the world."
Tourists and residents alike will have the unique opportunity to see a collection of some of the world's very best sand sculptors craft amazing sand sculptures. Featuring sculptors from around the world, the singles will compete the first week, followed by the doubles and Advanced Amateur Florida State Championships. Also, at the entry, guests can take photos with the new 70' x 20' sculpted sand art feature to be created by a variety of artists.
Returning for the 3rd year and bigger and better will be the SAND SHUFFLE. The SAND SHUFFLE brings the sand and artistry of Master Sculptors to businesses, attractions and destinations around Southwest Florida. Renowned Master Sculptor Melineige Beauregard will have her work featured at participating locations. The SAND SHUFFLE allows guests to visit, photograph and share the sculptures socially through their own social media outlets as well as the event's Facebook and Instagram pages. Additionally guests will be able to pick up an event guide with a SAND SHUFFLE Passport and get stamps at the locations where sculptures reside for a chance at great prizes. Only 12 sculptures will be featured and businesses interested in being featured as a SAND SHUFFLE location can contact Kevin Rooney at (239) 398-98740 or kevin(at)bigcevents(dot)com
Guests are welcome to attend daily November 20th through the 29th. There will be many interactive activities for guests to partake in including:

More than 30 Sand Sculptures – View over 30 sand sculptures, more than 1,000 tons of beach sand will be sculpted, including one huge 350 ton sand sculpture
Quick Sand Speed Sand Sculpting© - An audience-participation show in which two sculptors go head-to-head for a ten-minute sculpting competition, sculpting a subject selected by someone in the audience. The winner of each round advances to championship rounds based on audience applause.
Sand Sculpting Demonstrations and Lessons – Learn the Tricks of the Master Sculptors.
Amateur Contest – Open to anyone and all levels of sculptors, try your hand at sand sculpting.
State Championships – This is a competition where an advanced amateur sand sculptor can prove their abilities and get one step closer to being accepted as a Master Sculptor.
Sand Vendor Village – More than 50 vendors from around the country will be offering a great selection of food, beverages, specialty retail and arts and crafts.
Admission is just $5 with children 4 and under are free. For more information, please visit http://www.FMBSandSculpting.com or the event's Facebook page: https://www.facebook.com/SandSculptingFestival.
This year the Fort Myers Beach Chamber of Commerce will be coordinating all vendor involvement and volunteers. For details on participating in the event as a vendor, contact Ted Clifton at 239-848-6568 or cliftonted(at)hotmail(dot)com. To be a volunteer during the event, please contact Rhonda Murray 239-454-7500 or rhonda(at)fmbchamber(dot)com. Businesses and organizations can also sponsor the event. For details email sponsorinfo(at)FMBsandsculpting(dot)com.
LOCATION & TRANSPORTATION
The 29th Annual American Sand Sculpting Competition will once again be at the Wyndham Garden Hotel located at 6890 Estero Boulevard on Fort Myers Beach. Attendees are encouraged to arrive from the south in order to avoid traffic congestion. Event directors have coordinated a revolving bus system to transport attendees from the Lover's Key parking area to the site.