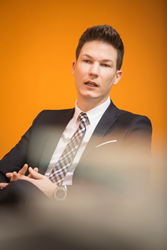 The customer profile seduced by Datacenter Luxembourg are established companies which require a reliable partner
(PRWEB UK) 26 June 2015
With turnover growing strongly since 2010 and an average annual increase of 27%, due to a strategy based on the quality of its products & services, Datacenter Luxembourg has managed to close some major deals last year. The most important one with the company MEGA regarding the management of its entire infrastructure and hosting in Tier III and Tier IV datacenters. The core pillars of Datacenter are colocation, cloud and connectivity.
"To attract a customer like MEGA requires not only a competitive offer, but also to be agile," explains Kevin Dhuicque, International Account Manager, Datacenter Luxembourg. "We have to adjust our capacities in terms of infrastructures and support, in order to fulfil the needs of this company, which is growing exponentially."
The market is no longer based only on responsiveness, companies must be proactive. This is also what best characterizes the company from Luxembourg. "We operate like a start-up, with the same enthusiasm and passion that has characterised us for 15 years now. This has allowed us to earn some major contracts in Europe and across the globe," says Kevin.
The company employs more than hundred people, which has proved to be a real asset. While Datacenter Luxembourg is proud of its state-of-the-art infrastructures, it is the human side that makes the difference: listening, anticipating expectations, interacting at any time. Thanks to this mind-set, Datacenter Luxembourg is growing rapidly on the international market, with the support also of Xavier Buck, co-Founder & Chairman. The resources being limited, prospection has become tactical. Datacenter Luxembourg will target in particular countries where its added value will have an economic impact and where there is clearly a deficit in terms of strong IT infrastructure.
Datacenter Luxembourg works with large companies requiring a reliable partner who can meet their needs in terms of Internet services, but also start-ups and fast-growing companies based on an innovative business model around the Internet, e-commerce and new technologies. DataCenter enables businesses to develop. The IT thus becomes a business generator rather than a cost centre. "This is part of a global strategy carried out by the Luxembourg government, which aims to attract more and more companies in the safest place in the world for data protection. We are in contact with incubators and work closely with organizations such as LU-CIX, Luxinnovation or the Luxembourg ICT Cluster. It is also important to note the synergies created by the different companies gathered under DCL Group", concludes Kevin.
About us:
Datacenter Luxembourg is an Internet Service Provider member of the DCL Group and operating out of Luxembourg. Datacenter Luxembourg was founded in 2000 by two ICT driven and innovative entrepreneurs. The company offers reliable datacentre infrastructure, international Internet and telecom connectivity, managed e-Commerce and colocation services. Datacenter has been at the forefront of the industry for more than fifteen years, with a unique offering of multitier datacentres, from Tier II to Tier IV.