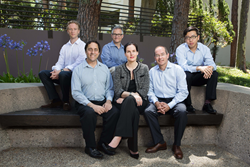 "There was sort of this aha moment where we were looking around at each other and realized that up until now it's been all of us competing indirectly with one another, but it doesn't have to be that way," points out Jess Conoplia
Shanghai, China (PRWEB) June 24, 2015
As the curtain goes down to close out the 2015 Shanghai International Film Festival, one final announcement has come out of the event: A group of key individuals currently forging entertainment opportunities between China and the West announced today that they have teamed up into a single entity. The new company, called Lightsource Asia Media Group, will leverage their extensive relationships and experience within both Hollywood and China to offer financing, content creation and acquisition, production resources and distribution. Lightsource will seek to create and foster new opportunities for studios, filmmakers and financiers who are looking to produce or distribute product not only in the US and China, but the rest of the world.
The group is comprised of veteran producer, international media executive and consultant Rick Ambros, Chinese film business expert and Forbes contributor Rob Cain, Executive Director of China Hollywood Society and long-time international film commissioner Jess Conoplia, Hollywood studio consultant and funding expert Pierre Henry, and Sparkstone Entertainment founders and co-presidents Scott Sommer and Long Wan. Each has enjoyed substantial recent success within the new China-Hollywood business corridor, and look to build together on those successes while creating what is now arguably the premiere destination for Chinese production expertise.
"We don't know of anyone else that is doing this, and we feel like we've assembled the best in the business in terms of who is working in this space today," says China expert Rob Cain. Cain is widely regarded as the foremost authority on China's film business and has racked up an impressive volume of alliances in both that country and in Hollywood.
Collectively, the team members have already signed or negotiated nearly three-dozen deals in the past year alone, with companies that include Alibaba Films, Magnolia Entertainment, CCTV-6, China Film Group, and China's top TV production company, Croton Media, among others. The group also has distribution deals in China at its disposal, along with multiple financing agreements and overhead partnerships already in place.
"There was sort of this aha moment where we were looking around at each other and realized that up until now it's been all of us competing indirectly with one another, but it doesn't have to be that way," points out Jess Conoplia. "By combining resources and the access channels we have already built, we now know exactly what all of our investment partners and friends are looking for worldwide, and we can immediately share the information, bring outside projects into the fold, and get them into production more quickly."
The group is already building a master slate of these projects, many with existing attachments and financing in place. Of these, at least four are already slated for production in the next twelve months.
"We're very enthusiastic about this new model, and have already been talking about it to some of our Chinese partners," says Long Wan. Sommer and Wan recently announced the deal they signed with China's Croton Media, which guarantees them 150 episodes of episodic televised shows produced in the Middle Kingdom, along with financing now in place for international TV fare.
"Our model is extremely flexible," observes Pierre Henry. "Whether the need in question on a given project is development expertise, gap financing, access to talent, distribution in China, or just advising people on how any of this stuff works, we can do it." Henry was a principal player in two different announcements from SIFF last week: one regarding his launch of Chinese film budgeting and writing software Movie Dreams (by the makers of Movie Magic software); and a deal brokered between Hollywood-based Magnolia Entertainment and Kylin-Mandarin Entertainment, which Henry helped negotiate.
Lightsource has offices in Beijing, Los Angeles, and, soon, in Hong Kong. With so many projects already in the works and a deep wealth of resources, this is one to watch.
ABOUT LIGHTSOURCE ASIA MEDIA GROUP
Lightsource is the leading entertainment group bridging China with Hollywood, serving producers and filmmakers with finance and distribution opportunities all over the world, with an emphasis on China. Consisting of partners with collectively over a century's worth of experience in Hollywood, China and other major markets such as the UK, Australia, New Zealand and India, Lightsource creates and acquires content, locates and manages financing, and produces and distributes entertainment within China and beyond. Contact: info@lightsourceasia.com, for additional information and bios: http://www.LightsourceAsia.com, Follow Lightsource on Twitter at @LightsourceAsia