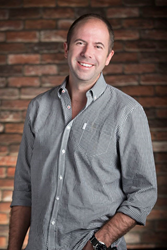 "We are thrilled to have Andy bring his success and expertise in the luxury destination travel industry to our collection," said Genovese.
Bridgetown, Barbados (PRWEB) June 24, 2015
BG Capital Group Board Chairman Bobby Genovese has named Andy Irvine President of BG Signature, the international luxury retreat collection that was curated and launched in 2013.
Prior to joining BG Signature, Irvine was Director of Events and Family Activities for Exclusive Resorts where he implemented and oversaw events for 3,500 members in 40 international destinations. Prior to his to role with Exclusive Resorts, he worked extensively throughout the Caribbean including the British Virgin Islands with Rosewood Hotels and the Radisson Resort and Hyatt Regency Grand Cayman Resort in the Cayman Islands. He also worked as a French and English speaking educator with the Giants Steps School in Montreal, Quebec where he planned and implemented programs for staff members.
"We are thrilled to have Andy bring his success and expertise in the luxury destination travel industry to our collection," said Genovese. "His decades-long success with Denver, CO-based Exclusive Resorts, where he created unique, once-in-a lifetime experiences for their discerning clientele, is precisely what the BG Signature brand represents and how we have positioned ourselves and our current expansion efforts moving forward."
About BG Capital Group
With more than 25 years of experience in mergers and acquisition, BG Capital Group Limited and BG Capital Management Corporation are both based in Barbados with associate management offices in the Bahamas, Fort Lauderdale and Boca Raton, Florida, Los Angeles, Toronto and Vancouver. http://www.bgcapitalgroup.com. In 2013, Genovese developed and launched BG Signature, a portfolio of 12 exclusive luxury retreats in the US, Canada, Europe, South America and Bahamas, including its flagship property, BG Equestrian Resort in Ocala, Florida, a 100-acre, year-round luxury equestrian retreat featuring world-class stables and lodging for traveling horse enthusiasts. A fleet of private yachts, private jet and four polo and equestrian clubs complete the collection. http://www.bgsignature.com